Making Informed Choices on May 15 Ballot
The case for JoAnn, Julia, Maria and Kayse
Lew Church | 5/2/2018, 10:25 a.m.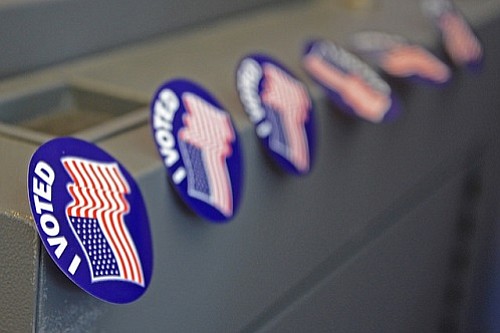 The May 15 primary election provides voters with four excellent choices in local races: JoAnn Hardesty for the open seat on Portland City Council; Julia DeGraw for incumbent Nick Fish's City Council seat; Maria Garcia for Loretta Smith's old spot on the Multnomah County Commission; and Kayse Jama to replace incumbent landlord state Sen. Rod Monroe.
At Portland State University, our Portland Gray Panthers chapter and affiliate Progressive Student Union have been targeting youth voters ages 18-21 to turn out and cast ballots by May 15. Statistics show that in midterm elections only 15 percent of new voters under age 21 cast ballots. If we seek to harness energy from Black Lives Matter, MeToo, and especially, the student activists and organizers inspired to act after the school shooting in Parkland, Fla. -- we need to actually make sure to cast ballots!
JoAnn Hardesty, a former state legislator, announced last year that she was running for Dan Saltzman's long-held seat and the millionaire Saltzman withdrew from the race. Hardesty, the longtime community organizer for both Portland NAACP and KBOO Community Radio wants police accountability, supports tenant rights, affordable and low income housing, and the green tax.
Since the primary race features five other candidates, it also has many possible outcomes.
Our PSU group wants Hardesty to win outright with 51 percent or more of the votes cast on May 15. Loretta Smith, term-limited from running again for county commission, is certainly a visible candidate, but many felt that Smith's advocacy for turning the Wapato jail site in far north Portland into a homeless shelter was not a good idea.
The two least impressive candidates of the group were architect Stuart Emmons (who came in third two years ago in his first run for council), and an advocate for hiring more police in Portland, Felicia Williams.
A recent op-ed by veteran Oregonian columnist Steve Duin argued that the notion of "we need a woman of color on city council" is a totally bogus argument. But is it? Stuart Emmons and Felicia Williams are both white candidates. Hardesty, Andrea Valderama and Smith are women of color candidates.
Duin's argument, of course, is utter nonsense. In 150 years, there has never been a woman of color on Portland's city council. Time's up!
In the other Portland City Council race, Julia DeGraw is a great choice, as noted in a recent Portland Observer guest commentary (Why I'm voting for Julia DeGraw, April 18 issue). The incumbent, Nick Fish, appears to be a 'placeholder politician' for the status quo. DeGraw, on the other hand, successfully fought Nestlé's attempts in Cascade Locks to privatize public water resources.
For county commissioner, Maria Garcia, owner of Revolucion coffee shop near PSU, is the best choice for this open slot.
Garcia, working with Theresa Raiford and Black Lives Matter, spoke eloquently at Pioneer Square in March for International Women's Day, in English and Spanish. Garcia supports sanctuary cities and helped organize the event "A Day Without Immigrants."
Portland Gray Panthers is also happy to support Unite Oregon's Kayse Jama to replace landlord and 'rent raising' Rod Monroe in the state senate. Monroe in 2017 blocked rent control legislation in Salem -- even though the House had already passed the bill and Gov. Kate Brown was ready to sign it. Monroe put landlord profits ahead of helping to fix the housing crisis in our state.
At a recent Metro forum with 50 people on housing and houselessness, rising rents were identified as the crucial component as to why we see thousands of people sleeping on sidewalks and camping out in tents in neighborhood after neighborhood. Shame on Monroe!
An advantage of incumbency for career politicians like Fish and Monroe is building massive campaign war chests. At PSU, when we supported a not-so-well off challenger two years ago, Chloe Eudaly, in her successful bid to unseat an incumbent politician, we recognized that in a democracy, money doesn't always "lock out" lesser folks from winning elections.
On May 15, by voting for JoAnn, Julia, Maria, and Kayse, we can elect people who will 'represent' the rest of us, not just landlords and Oregon's 1 percent.
Lew Church is coordinator of Portland Gray Panthers and founding publisher and editor of activist papers at Portland State University, the Rearguard and the Agitator.