Controversial Judge Pick Gets Hearing
Oregon senators call process unfair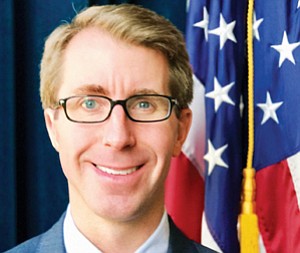 A controversial judicial pick from Oregon for the U.S. Ninth Circuit of Appeals will have his nomination considered by the Senate Judiciary Committee on Wednesday despite opposition by Oregon's two U.S. Senators.
Ryan Bounds, a U.S. Attorney for Oregon, nominated for a lifetime appointment to the bench by President Trump, has come under fire for writings back in college in which he made racist, sexist and homophobic attacks on multiculturalism.
On Monday, Sens. Ron Wyden and Jeff Merkley, both Democrats, called Bounds an unqualified nominee. In a joint statement, they said he was dishonest for failing to disclose his inflammatory writings to an Oregon judicial selection committee. They also accused Republican leaders of moving forward on changing the rules on who the Senate considers for judicial appointments in order to stack the courts in their favor, citing an unfairness that Republican objections from home state senators in the past prevented President Obama's judicial nominations.
Back in February, the progressive activist group Alliance for Justice, attacked Bounds' fitness for the judge vacancy, citing his writings at Stanford University in the 1990s in which he said race-focused groups should not be allowed on campus and used racist and offensive language to describe people with backgrounds and beliefs that were different from his own.
Bounds, 44, apologized for the writings earlier this year, calling them misguided sediments from his youth.