Make Your Vote Count
Ballots due for vote-by-mail election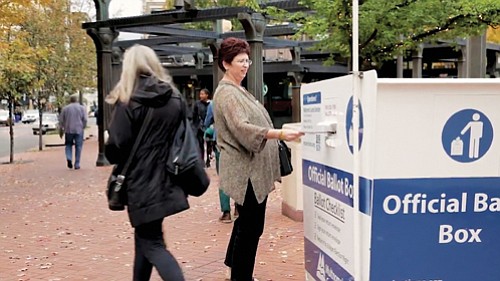 As the deadline to cast ballots for the May 15 Primary nears, voters are pressed to make their decisions on not only city and county governing contests, but on races for Oregon governor, state judges and representatives and members of Congress. In Portland, a children's levy is up for renewal.
Election officials say Thursday is the last day to safely mail in the ballots to ensure they reach the Elections Office by the Tuesday, May 15 8 p.m. voting deadline. Otherwise they can be dropped off at 24-hour official ballot drop box sites, Multnomah Public Libraries, and elections offices.
It's shaping up to be a historic midterm with a record number of candidates who are women and people of color running for the Portland City Council and Multnomah County Board of Commissioners. Loretta Smith and former state representative and activist Jo Ann Hardesty, both African Americans, and current City Hall employee Andrea Valderrama, who is of Peruvian descent, are among some of the leading candidates.
As of Tuesday, 13 days since ballots were first mailed, the turnout was 10 percent of Multnomah County's 520,749 registered voters, according to the county's election division website. That's about the same, percentage-wise, compared to the 2014 primary.
For non-partisan contests like the city council and county commissioner races, anyone who gets more than 50 percent of the vote wins automatically. Otherwise, the top two will face off in a November General Election runoff.
This year there are a whopping 16 candidates running for Oregon governor, including incumbent Kate Brown. Brown ran just two years ago in a special election after former Gov. John Kitzhaber resigned.
A Portland Children's Levy, which supports programs for children experiencing poverty, abuse and other conditions that put them at a disadvantage, will be up for renewal by voters this year. First passed in 2002, Measure 26-197 is a property tax of about 40 cents per $1,000 valuation to raise approximately $118 million over the next five years to go into "proven and effective programs" to aid children.
Campaign spokesperson Aisling Coghlan told the Portland Observer that in the previous 15 years, over $150 million has been invested in over 50 organizations from the levy.
In Beaverton, voters will be asked to approve a property tax levy to pay for added teachers and limit class sizes.
Voters can sign up to track their ballots to see that it is received and counted. They can also receive a virtual "I Voted" sticker, which can be shared on social media. Visit Multnomah.ballottrax.net to sign up.
Voters who have not received their ballot are advised to call 503-988-3720. Lost ballots can also be replaced. In Gresham, a new Voting Express Center is located inside the new Multnomah County East building on 600 N.E. Eighth St.
In addition, 27 drop sites throughout the county, including all Multnomah county Libraries and eight 24-hour drop boxes can collect ballots up until 8pm on election night. More information can be found at bit.ly/MultCoDropSites.
Unofficial results of the election will be available starting at 8 p.m. on election night. As counting continues into the next day, the results will be updated, Multnomah County Elections Office Spokesperson Eric Sample told the Portland Observer.
"Results are unofficial until we certify the election, which is 20 days after the election," Sample said.
Results can be viewed online at multco.us/elections/may-15-2018-election-results.