Legacy Fabricator Killed
Community in shock after 85-Year-old murdered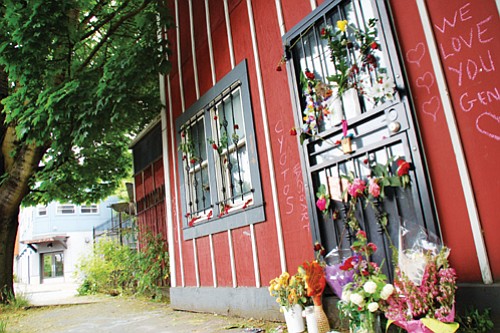 Community members of a northeast Portland neighborhood have been stunned by the murder of an 85-year-old man whose welding shop was a landmark of Martin Luther King Jr. Boulevard.
A homicide investigation is ongoing for the death of Eugene C. Gora after he was found dead in his welding shop in northeast Portland Thursday. Gora had told a city housing inspector a few months prior that he had been residing there for over four decades, a city official said.
Police and emergency personnel confirmed Gora was dead when they arrived at his garage at 4232 N.E. Martin Luther King Jr. Blvd. around 6:30pm Thursday in response to a call made by a friend/caretaker of the deceased who discovered him unresponsive on his floor.
The circumstances of his death were noted as "suspicious-in-nature," according to a press release by Portland Police that same day and the Oregon State Medical Examiner's office cited "homicidal violence" as the cause.
Gora was known in the neighborhood as a skilled welder and fabricator who spent a decades-long career at his shop, Gora's Welding and Fabrication, making barbeques, trailers, and custom builds like the stainless steel swoops on the Niketown store on Martin Luther King Jr. Boulevard and Northeast Knott Street, just a few blocks from his shop.
"He could weld whatever you had. And he could fabricate whatever," Bart Colson, proprietor of Bart's Swedish Formula, an auto repair shop next door to Gora's shop, told the Portland Observer.
Colson had seen Gora on a near daily basis and noted in recent years his vision and mobility had become limited. Lately, he'd gotten around using a walker while visiting local establishments, like the Miracles Club, a recovery center, or the Heavenly Taste Café, both less than one block away, chatting up people in the neighborhood.
"He passed his skills and knowledge on to lots of people," Julia Colson, the co-owner of the auto-shop who sometimes trimmed Gora's rose bushes, added.
The Colsons noted they'd sometimes seen his door ajar, too.
A makeshift memorial apparently put together by neighbors and friends with flowers, messages of love like "we miss you," a candle, and a slice of apple pie were left on his doorstop Tuesday morning.
The property had three open complaint cases with the city of Portland Neighborhood Inspections Program, two related to the upkeep of his yard and one complaint of illegal residency of the owner.
Two complaints, both from Dec. 11, had not yet resulted in citations—a nuisance complaint of debris and hazardous material in Gora's yard, and a complaint of exterior storage of some of his possessions, including vehicles.
A third complaint of illegally residing in the garage, which was marked for commercial use, did result in a citation on Jan. 31, Housing Inspection Supervisor Megan Greenauer told the Portland Observer.
Gora told a housing inspector he had been living on his property for the past 45 years, Greenauer added, but was actively working with the city to correct the complaints.
"He was moving towards selling the property. We were working with him to make the occupation of the space more safe in the meantime," she said.
Gora even held an estate sale just two weeks ago, in the last weekend of April, where he sold some of his vehicles and other property in an apparent attempt to get clear his property, the Colsons said.
Police have said the circumstances of Gora's death make them suspect homicide, and the cause of death was confirmed to be homicide-related, but It remains confidential as to how exactly police suspect the killing was implemented.
"In order to preserve the integrity of this ongoing investigation, the Police Bureau is not releasing the specific cause of death," Sergeant Chris Burley, the bureau's Public Information Officer, told the Portland Observer via email Monday.
Portland Police Detective Division's Homicide Detail and criminalists with the Forensic Evidence Division were dispatched to investigate the killing, officials said.
Anyone with information about the death should contact Detective Todd Gradwahl at 503-823-09991, Todd.Gradwahl@portlandoregon.gov or Detective Brad Clifton at 503-823-0696, Brad.Clifton@portlandoregon.gov.