Dismantling Barriers
"Fences' drama at Portland Playhouse
5/16/2018, 11:15 a.m.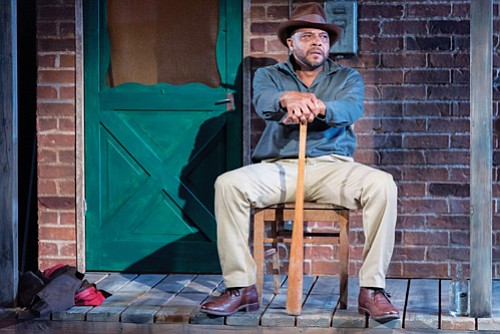 Portland Playhouse presents 'Fences' another August Wilson play with an amazing African-American narrative where the issues of mental health and racism undergird a powerful and engaging script.
The production opened this month at the theater's newly renovated performance venue at 602 N.E. Prescott St. and runs through June 10. It is the seventh of the late African American playwright's 10-play "American Century Cycle" that the Playhouse has staged
Fences" is a story about Troy, a 53-year-old black husband, father, former athlete and now garbage collector who struggles to define himself both inside and out of his 1950s Pittsburgh home. It asks "What makes us choose the things we keep at a distance and what we decide to let in?"
Lou Bellamy, the founding Artistic Director of Penumbra Theatre Company, which has produced more August Wilson productions than any company in the world, including the premiere of "Jitney!," directs the Portland production.
In honor of Mental Health Month, a panel discussion aimed at dismantling barriers and addressing the needs of mental health access and services for the black community will be held following the 2 p.m. matinee on Sunday, May 20. You do not need to attend the performance to attend this discussion.
On June 10, in honor of Fathers Day, a special discussion will follow the play giving black fathers and their sons an intimate conversational experience on "What we say, what we wished we said, and the things rarely heard outside the black home."
For tickets and more information, visit portlandplayhouse.org.