A City Transformed
Vanport Mosaic commemorates 70 years since flood
5/22/2018, 5:51 p.m.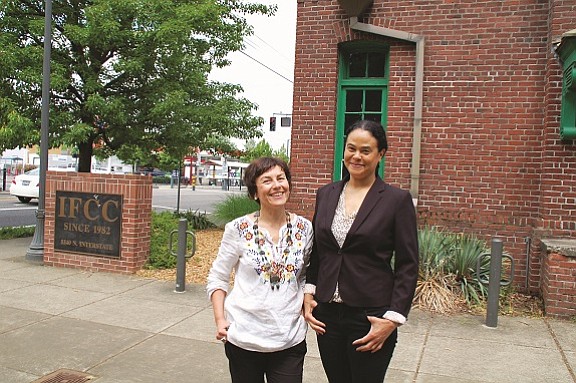 On a warm Memorial Day 70 years ago, Portland was forever transformed by Oregon's biggest natural disaster of the 20th century: The Vanport Flood.
It's a big anniversary, and that's why the Vanport Mosaic Festival is pulling out the stops for six days of activities that weave together fun, fascination, family and serious reflection.
It's all happening with events beginning Wednesday, May 23 and continuing through the Memorial Day holiday on Monday, May 28 at multiple venues that are specifically free of charge or kept at low-cost for the community.
Co-organizers Laura Lo Forti and Damaris Webb have created a rich program that combines storytelling, performance, history, physical activities and even a disaster preparedness workshop. The Royal Rosarians will also be planting a special commemorative rose at Peninsula Park, and the Rosarian planting is himself a Vanport survivor.
A big highlight for 2018 is a partnership with the Confluence Project, which promotes understanding of indigenous communities of the Columbia River through historic preservation and construction of a series of hiking trails stretching along the Washington side of the Columbia Gorge. The trails are vast and fascinating landscapes designed by architect Maya Lin, creator of the US Veterans Memorial in Washington, D.C.
Like the Vanport survivors who have contributed oral histories to the Vanport Mosaic project, Native American families have joined voices in oral histories about their experiences. A fascinating panel of local indigenous leaders will be screening a film of these oral histories at the festival as well.
Key to local tribes was loss of Celilo Village on the Columbia when the Dalles Dam was built in 1957. Before being flooded for the dam by the federal government, Celilo was considered the oldest sustained community on the North American continent. The damn also destroyed Celilo's huge waterfall, one of the most important tribal fishing spots and a center of the tribal economy.
"We feel a sense of urgency right now because many of the elders who lived through these things are in their 80s and 90s," Lo Forti says. "We can't lose their stories because they have so much to teach us and that is how we really learn -- from each other."
Lo Forti says it's all about defining the idea of "memory activism."
"In these times it seems as if remembering history is an act of resistance," Lo Forti says. "Our goal is to engage more and more memory activists."
The Vanport Flood holds a special place in Oregon history.
A long rainy winter had raised the water level of the Columbia River, and on Memorial Day -- May 30, 1948, at 4:05 p.m. -- a large piece of the earthen levy protecting the town collapsed.
All of Vanport's 40,000 residents lost their homes, and 15 lost their lives. The disaster is sometimes called "Oregon's Katrina," because like Hurricane Katrina in 2005, the Vanport Flood impacted communities of color disproportionately, including African American shipyard workers and their families who had moved to Vanport to support the US military effort during World War II.