Fighting Ben Carson's 300 Percent Rent Hike
Portland's Gray Panthers mobilize
Lew Church | 5/23/2018, 10:09 a.m.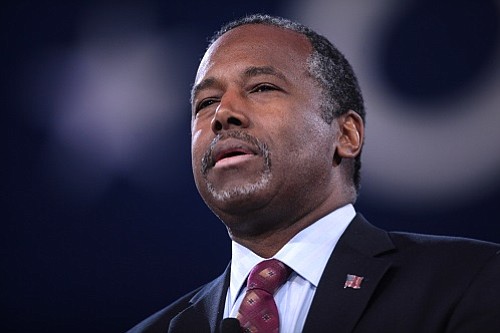 Ben Carson, Donald Trump's Secretary of Housing and Urban Development (HUD), proposed a 300 percent rent hike last month against low-income tenants across the country. Portland Gray Panthers is fighting back!
In the excellent Portland Observer opinion article ("Wrong Time to Cut Back on Public Housing," May 9 issue) writer Ebony Slaughter-Johnson correctly chastised Carson's plan which only throws fuel on the fire of this national housing crisis.
In Oregon, we have seen national publications like the New York Times already label Portland as "Tent City USA." And in a now-infamous direct mail piece for last week's primary election for Portland City Council, losing candidate Stuart Emmons issued a dire warning that "tents and tarps are coming to your neighborhood."
During a public forum on housing and homelessness held last month at the offices of Metro, 50 attendees heard speaker after speaker cite one of the primary reasons for folks camping out in tents and sleeping on sidewalks is skyrocketing rents.
Last year, the Oregon House and Gov. Kate Brown supported a bill to legalize rent control by cities in Oregon, only to be blocked in the Senate by Rod Monroe, a southeast Portland lawmaker who was just defeated in the May 15 Primary.
Advocates for tenants will be back and plan to see rent control legalized in Oregon and halt Carson's rent hike, as well.
Our newly-revitalized Portland Gray Panthers group seeks to halt this HUD "fire sale" of gargantuan rent hikes, threats and evictions. The chapter is meeting on Saturdays at 4 p.m. at Portland State University's Chit Chat Café, located at 1907 S.W. Sixth and on the Green MAX, next to Hot Lips Pizza.

Tenant advocates have worked over the past two years with low-income tenants, seniors and people with disabilities at the Butte and Biltmore buildings, downtown. At one point, Gray Panther members organized a six-month rent strike at PSU to protest frequent rent hikes, lack of repairs and management problems with a subcontracted landlord management firm.
As the rent strike developed, coed tenants reported one building manager for using his pass key to enter apartments and refusing to leave, a violation of landlord-tenant law and a criminal offense. That manager was then fired.
With the help of the Tenant Rights Project and activist PSU students, Gray Panthers organizers also gave a landlord-tenant workshop to undergrads at Reed College, and Reed generously donated $300 to the effort. The meeting was disrupted, however, by a representative for a downtown landlord who falsely represented himself as a lawyer.
Housing is a basic human right. The Trump Administration, personified in this case by the HUD secretary, seeks to trample on the ability of workers and poor folk to keep their apartments and not be evicted.
As we now know, Carson last year sought to purchase a $30,000 dinette set (with blue satin trim) for his office location in Washington, D.C. -- a purchase that was rescinded under the lens of public scrutiny.
Working with the National Gray Panthers network, Justice in Aging and CarsonWatch -- Portland tenant rights organizers plan to counter Carson's tone-deaf rent hike proposal with news conferences, pickets, demonstrations and a letter writing campaign.