Portland Juneteenth Planning
5/23/2018, 10:37 a.m.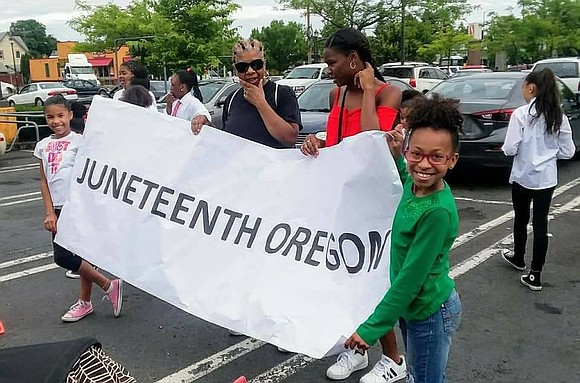 Plans are being made for Portland's annual Juneteenth celebration, coming Saturday, June 16, with the Clara Peoples Freedom Trail Parade and followed by festivities at the Legacy Emanuel Hospital field on North Russell Street between Vancouver and Williams.
Juneteenth is a free family fun event commemorating the end of slavery and is open to everyone. The parade will start at 11 a.m. on June 16 beginning at the Safeway store on Martin Luther King Jr. Boulevard and proceeding to the Emanuel field where the celebration will follow from noon to 6 p.m. with music, food, hip hop cardio, a kids area and a raffle.
In addition, on Thursday, June 14, the Billy Webb Elks Lodge, 6 N. Tillamook St., will host a Miss Juneteenth Scholarship Pageant. You're invited to join 10 young women, ranging in ages from 14 to 18 years old, as they vie for the title and crown of Miss Juneteenth Oregon.
For more information on Portland Juneteenth, visit juneteenthor.com or call 971-930-5862.