Rare Perspectives on Stage
Oregon Shakespeare Festival makes space for authentic, rarely-heard voices
It is no exaggeration to say that three plays currently on offer at the Oregon Shakespeare Festival in Ashland are making space for authentic, rarely-heard perspectives, and are changing the landscape of the American theater.

"Manahatta," the astonishing work of Cherokee playwright Mary Kathryn Nagle, takes place in three settings and two time periods. A few years before the 2008 financial crisis, a Lenape woman, Jane Snake, arrives on Wall Street -- to Manahatta, the very land her ancestors were forced to leave in the 1600s. She has taken a job in a prestigious investment bank and is fighting for credibility and opportunities to demonstrate her skills, but in a place where she is not seen or expected to rise. Meanwhile, her family is facing personal and financial troubles back in Oklahoma that eventually lead her mother to take out a mortgage loan that will jeopardize the family home. Finally, much of the play involves Lenape people in Manahatta encountering Dutch settlers for the first time, leading to a series of failures of communication with disastrous consequences for the Lenape people.
Staging these three stories together is a feat of theatrical genius, performed by a talented cast under the facile direction of Laurie Woolery. All seven cast members move between time periods, with subtle but clear shifts of costume, movement, and tone, and Nagle (herself an attorney who formerly worked in Manhattan) has found resonant parallels between the economic pressures driving events in all three stories and the patterns of exploitation and colonization that recur again and again. In this play -- as frequently happens for indigenous and marginalized people--the Lenape characters invest in relationship, and what they offer in friendship and good faith is used as leverage for their removal. Moving between the stories in this way captures a sense, common to indigenous cultures, that ancestors move among us and may help us to respond to suffering with hard-one wisdom from the past.

The play offers an exceedingly rare opportunity to experience mainstream art that is driven by indigenous storytelling rhythms and that centralizes the perspective of its indigenous characters, rather than the more usual erasure of indigenous people or the tendency to crop their story into a narrative that belongs to the dominant culture. We get a sense of how the first peoples viewed their early trades with European settlers, and of how persistently the perspectives of the colonizers erase evidence of agency and omit signs that they are dealing with a worthy trading partner. When a Lenape character addresses a settler in his language, he remarks in surprise, "You speak," as though only expression in his language deserves that description.
In the world envisioned here, the indigenous characters are accorded due respect, and spiritual and historical connections are sensed and honored. Although the stories here evoke sorrow, they also inspire reverence. The act of creation in which these artists participate holds the potential to transform. [Runs through Oct.27.]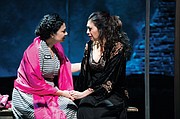 Mexican-born playwright Karen Zacarías, tired of having Latinx theater compared indiscriminately to telenovelas, set out to create an unapologetic telenovela when she penned the glorious "Destiny of Desire." The inapt comparison she reacted to, often meant to be dismissive, minimizes the value and influence of telenovelas, not to mention their comic and political potential. Zacarías finds both in her play, which pairs telenovela storytelling conventions with Brechtian theatrical self-consciousness. The result is a story of female empowerment that is both fun and political, in all the best ways.
Telenovelas are hugely popular in Latin America (though also in Asia, Eastern Europe and the Middle East) and are characterized by stock characters and overblown plots, costumes, and music. While often evincing conservative values, they also influence social progress as well by highlighting story lines involving hitherto controversial topics like migration and family planning.

Zacarías has employed the genre of this play to tell a story of women seizing control of their destinies and even changing the world. On the same night in Bellarica, Mexico, two baby girls are born -- one sickly, one healthy; one to a rich family, and one to a poor one. Due to the machinations of the rich girl's mother, a former beauty queen, the babies are switched at birth. When they meet 18 years later, unaware of their connection, they quickly become friends and switch their identities to pursue their passions. Further complications of course ensue and, as often happens in telenovelas, the play turns the tables on the upper class, but also reveals the emptiness of dominant culture values and challenges power imbalances that are often taken for granted.
Director José Luis Valenzuela, a visionary leader of Chicanx/Latinx theater, has directed each of the four productions of this play, and strikes a deft balance here of respect and celebration. His production takes telenovelas seriously without taking itself too seriously. The colors are vibrant, the emotions intense--and while Valenzuela shows us the humor, the production is not making fun. The play's use of Brechtian conventions brilliantly aids the storytelling here; the actors stop the action to add facts and statistics which illustrate that the plot is not as outrageous as you might think, or to rewind the action to highlight what the plot mechanics are pointing to. Like Bertolt Brecht, this play is less concerned with involving us emotionally than with helping us to see unnoticed ways in which life imitates even the most outrageous art. It seeks to make us laugh, and also to motivate us to seize our destinies. [Runs through July 12.]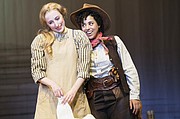 How do we make space for those for whom there has been no space? How do we point out their absence from the spaces that do exist? How do we model and live exclusiveness, even while the spaces that exist are tainted by oppression? OSF'S current production of "Oklahoma!" lives into these questions in a powerful way.
It's an interesting choice of material, this most American of musicals, which feels about as straight and as white as they come. But the truth is, LGBTQ+ people and people of color exist in most communities, even if they are hidden or not allowed to fully participate.

For more than two decades, director Bill Rauch has held onto an ambition to produce "Oklahoma!" in an LGBTQ+-focused way, with the four leads cast as same-sex couples. It is the first Rogers and Hammerstein collaboration and one of the first true musical plays, where songs and dance emerged from the dialogue. The songs have permeated American culture like no other in the canon.
And yet as a gay man who loved musicals, Rauch felt unrepresented and shut out. His instinct to change that with this specific musical feels like a powerful one: to watch this playful, open-hearted, and conventional love story, sentimentally set in the American frontier, celebrating the love of two gay couples; to hear them sing these familiar songs – It communicates that America is for the LGBTQ+ community too. No holding back; sing it with full voices and hearts.
I'll acknowledge that, as musicals go, "Oklahoma!" is not my favorite. There are some unsolved problems in the play; for example, a Persian peddler is comic relief, an angry farmhand is treated as an unredeemable pariah in this idyllic world where "the farmer and the cowhand should be friends," and the plot is hardly subtle. I gravitate toward original material that aims to tell new stories in new ways.
And yet, this production helped me appreciate how embodying old material in a new way has a particular value in pushing us past our failures of imagination. Hearing two female voices sing "People Will Say We're in Love" and watching two men playfully negotiate their commitment in "All 'Er Nuthin" is strangely moving. With a multiracial cast that includes a transgender Aunt Eller and characters who present at several places along the range of gender expression, the cast lives, sings, and embodies community more openly than we are used to seeing -- infusing the pioneer setting with new meaning. Part of what made "Oklahoma!" so remarkable when it premiered in 1943 was its focus on a pioneer story, departing from the usual more urbane musical settings. This production presents a new community of pioneers.
I expect there will be naysayers in every audience; this production aims to move the collective conversation, using a beloved traditional vehicle. I was there at opening, likely one of the most receptive audiences the company will experience, and felt a lot of negative energy from the couple to my left. But the show is selling well, and expanding our vision of inclusion – due in large part to Rauch's vision and to a company of artists who bring their whole selves to the stage with each performance. [Runs through Oct. 27.]
Darleen Ortega is a judge on the Oregon Court of Appeals and the first woman of color to serve in that capacity. Her movie review column Opinionated Judge appears regularly in The Portland Observer. Find her movie blog at opinionatedjudge.blogspot.com.