Rare Perspectives on Stage
Oregon Shakespeare Festival makes space for authentic, rarely-heard voices
It is no exaggeration to say that three plays currently on offer at the Oregon Shakespeare Festival in Ashland are making space for authentic, rarely-heard perspectives, and are changing the landscape of the American theater.

"Manahatta," the astonishing work of Cherokee playwright Mary Kathryn Nagle, takes place in three settings and two time periods. A few years before the 2008 financial crisis, a Lenape woman, Jane Snake, arrives on Wall Street -- to Manahatta, the very land her ancestors were forced to leave in the 1600s. She has taken a job in a prestigious investment bank and is fighting for credibility and opportunities to demonstrate her skills, but in a place where she is not seen or expected to rise. Meanwhile, her family is facing personal and financial troubles back in Oklahoma that eventually lead her mother to take out a mortgage loan that will jeopardize the family home. Finally, much of the play involves Lenape people in Manahatta encountering Dutch settlers for the first time, leading to a series of failures of communication with disastrous consequences for the Lenape people.
Staging these three stories together is a feat of theatrical genius, performed by a talented cast under the facile direction of Laurie Woolery. All seven cast members move between time periods, with subtle but clear shifts of costume, movement, and tone, and Nagle (herself an attorney who formerly worked in Manhattan) has found resonant parallels between the economic pressures driving events in all three stories and the patterns of exploitation and colonization that recur again and again. In this play -- as frequently happens for indigenous and marginalized people--the Lenape characters invest in relationship, and what they offer in friendship and good faith is used as leverage for their removal. Moving between the stories in this way captures a sense, common to indigenous cultures, that ancestors move among us and may help us to respond to suffering with hard-one wisdom from the past.

The play offers an exceedingly rare opportunity to experience mainstream art that is driven by indigenous storytelling rhythms and that centralizes the perspective of its indigenous characters, rather than the more usual erasure of indigenous people or the tendency to crop their story into a narrative that belongs to the dominant culture. We get a sense of how the first peoples viewed their early trades with European settlers, and of how persistently the perspectives of the colonizers erase evidence of agency and omit signs that they are dealing with a worthy trading partner. When a Lenape character addresses a settler in his language, he remarks in surprise, "You speak," as though only expression in his language deserves that description.
In the world envisioned here, the indigenous characters are accorded due respect, and spiritual and historical connections are sensed and honored. Although the stories here evoke sorrow, they also inspire reverence. The act of creation in which these artists participate holds the potential to transform. [Runs through Oct.27.]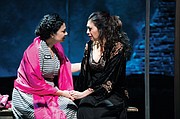 Mexican-born playwright Karen Zacarías, tired of having Latinx theater compared indiscriminately to telenovelas, set out to create an unapologetic telenovela when she penned the glorious "Destiny of Desire." The inapt comparison she reacted to, often meant to be dismissive, minimizes the value and influence of telenovelas, not to mention their comic and political potential. Zacarías finds both in her play, which pairs telenovela storytelling conventions with Brechtian theatrical self-consciousness. The result is a story of female empowerment that is both fun and political, in all the best ways.