Rare Perspectives on Stage
Oregon Shakespeare Festival makes space for authentic, rarely-heard voices
Telenovelas are hugely popular in Latin America (though also in Asia, Eastern Europe and the Middle East) and are characterized by stock characters and overblown plots, costumes, and music. While often evincing conservative values, they also influence social progress as well by highlighting story lines involving hitherto controversial topics like migration and family planning.

Zacarías has employed the genre of this play to tell a story of women seizing control of their destinies and even changing the world. On the same night in Bellarica, Mexico, two baby girls are born -- one sickly, one healthy; one to a rich family, and one to a poor one. Due to the machinations of the rich girl's mother, a former beauty queen, the babies are switched at birth. When they meet 18 years later, unaware of their connection, they quickly become friends and switch their identities to pursue their passions. Further complications of course ensue and, as often happens in telenovelas, the play turns the tables on the upper class, but also reveals the emptiness of dominant culture values and challenges power imbalances that are often taken for granted.
Director José Luis Valenzuela, a visionary leader of Chicanx/Latinx theater, has directed each of the four productions of this play, and strikes a deft balance here of respect and celebration. His production takes telenovelas seriously without taking itself too seriously. The colors are vibrant, the emotions intense--and while Valenzuela shows us the humor, the production is not making fun. The play's use of Brechtian conventions brilliantly aids the storytelling here; the actors stop the action to add facts and statistics which illustrate that the plot is not as outrageous as you might think, or to rewind the action to highlight what the plot mechanics are pointing to. Like Bertolt Brecht, this play is less concerned with involving us emotionally than with helping us to see unnoticed ways in which life imitates even the most outrageous art. It seeks to make us laugh, and also to motivate us to seize our destinies. [Runs through July 12.]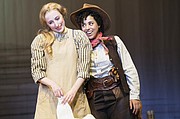 How do we make space for those for whom there has been no space? How do we point out their absence from the spaces that do exist? How do we model and live exclusiveness, even while the spaces that exist are tainted by oppression? OSF'S current production of "Oklahoma!" lives into these questions in a powerful way.
It's an interesting choice of material, this most American of musicals, which feels about as straight and as white as they come. But the truth is, LGBTQ+ people and people of color exist in most communities, even if they are hidden or not allowed to fully participate.

For more than two decades, director Bill Rauch has held onto an ambition to produce "Oklahoma!" in an LGBTQ+-focused way, with the four leads cast as same-sex couples. It is the first Rogers and Hammerstein collaboration and one of the first true musical plays, where songs and dance emerged from the dialogue. The songs have permeated American culture like no other in the canon.