Stepping Up for Kids
Rockwood Boys & Girls Club's first summer season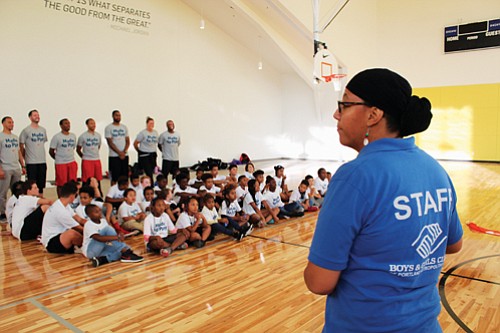 The Rockwood Boys & Girls Club is now taking signups for its very first summer season of activities and programs serving a growing need to an ethnically diverse and often economically disadvantaged population in east Portland and Gresham.
The youth organization's eight-week summer program begins June 25 for children ages six to 18. An open house will be hosted on Saturday, June 2, from 11 a.m. to 3 p.m. for parents to visit the club, meet the staff, and hear about the wide-range of programming available to keep kids safe for summer.
Before the Rockwood Boys & Girls Club opened last October, families and single parent households in the area it serves had few, if any, hubs for after school and summer programs serving kids. The new facilities are one of seven Boys & Girls Clubs across the Portland metro area dedicated to providing youth enrichment programming after school and during the summer.
"We create our programming around the interests of the children," Imani Muhammad,38, the Rockwood Club's senior director of programs, told the Portland Observer.
The programs focus on math and science education, the arts, sports and wellness, workforce readiness, public service and leadership. At Rockwood, there are innovative spaces with top-notch equipment, including tech and art labs, a game room and a peace lounge. Teens have their own dedicated area where they can participate in programs like UPS Road Code to learn about driving safety or hone their career skills with targeted workforce training.
"It's learning how to work with people, it's learning how to problem solve and conflict resolution, and also know that they have safe adults that they can come to," Muhammad said.
The club also has a full-sized kitchen where youth receive meals and snacks. Partnerships with supporting organizations have resulted in a new Nike-sponsored gym; the Bemis Field, which includes two outdoor futsal courts gifted to the campus by the Portland Timbers and Thorns; the C.J. McCollum Dream Center, dedicated to broadcast and journalism activities; a state-of-the-art music studio; the Johnson Teen Center; and more.

The need for a Boys & Girls Club in Rockwood is rooted in the gentrification of north and northeast Portland which shifted a population of families with children from inner city neighborhoods to other locations where the cost of living was more affordable. The demographics of Portland east of I-205 is lower income and more ethnically diverse than the citywide average. There are eight different languages spoken by children in the club. The club also serves five school districts: David Douglas, Parkrose, Centennial, Gresham/Barlow and Reynolds.
Muhammad has been working for the Boys & Girls Club on and off for 13 years, including at the Blazers Boys & Girls Club on Northeast Martin Luther King Jr. Boulevard. While she dislikes the term 'at-risk youth' to describe the demographic the organization serves, she said the club's after school and summer programs can often help children who've been impacted by trauma shape their futures for the better.
"For young people that have unstable housing, young people that don't have their parents that they live with, you have to have an after school program to help them change the trajectory of their life. I mean, I think it's essential because parents can't do it all. Especially if 70 percent of the households are ran by single parents," she said.
All of the Portland area Boys & Girls Clubs offer affordable all-day programs for youth in the first to sixth grades, with an extra 7:30 a.m. to 9 a.m. Sunrise Club option, helpful for parents who go to work early and available for a small fee. Teen programming for seventh to twelfth graders runs from noon to 6 p.m. Visitor drop-in rates are also available.
Youth also have the opportunity to take summer field trips across the metro area and beyond to include OMSI, the Oregon Zoo, getting out in nature and participating in summer internship programs. Other fun summer activities are themed around robots, comics, cartoons, superheroes and music making.
Summer registration is currently open. Because spots are limited, parents are encouraged to visit bgcportland.org/summer and register today.