Transit Memorial Dedication
Hope and remembrance one year later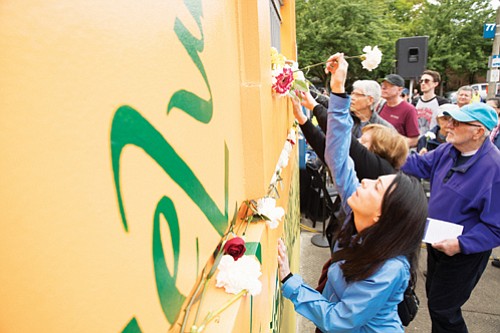 Hundreds of Portlanders gathered Saturday at a new mural adorning the Hollywood Transit Center with messages of hope and remembrance one year after a double fatal stabbing on MAX light rail stunned the community.
When an anti-Muslim, racial tirade against two young women was challenged by other passengers, the perpetrator then turned on Taliesin Myrddin Namkai-Meche and Ricky Best, who were both killed, and Micah Fletcher, who was seriously wounded. Jeremy Christian was arrested and stands charged with murder.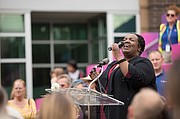 A spontaneous memorial first covered the walls of the transit center in the days following the stabbings, with messages of love and mourning written in chalk, and piles of flowers.
The new mural also has messages of hope and Inspirational quotes from the two who lost their lives. Titled "We Choose Love" the mural was designed by artist Sarah Farahat with brightly colored paints.
Among those present at the dedication ceremony were the family members of some of the victims, including Best, Namkai Meche, and one of the teenage girls targeted by Christian.
Interfaith leaders, community organizers, and Farahart spoke at the event and a bell from the Buddhist Daihonzan Temple was rung five times in remembrance of the two women and three stabbing victims. Vocalist Saeeda Wright sang while community members lined up to leave flowers at the site, including Mayor Ted Wheeler.
Wheeler released statement deriding the violence and hatred that are "too pervasive in our society."
"As we mark this day, we must choose to remain united in our resolve to choose love. We must recognize the incredible resilience of our community," he said. "Taliesin, Ricky and Micah stood up to hatred. They are heroes. They continue to serve as inspiration to me personally, and to us all. Let us all take time today to honor and remember these men."
A memorial plaque will also be placed at the transit center by designer John Laurel in the next year or two.