Countdown for Signatures
Assault weapons ban effort gets July 6 deadline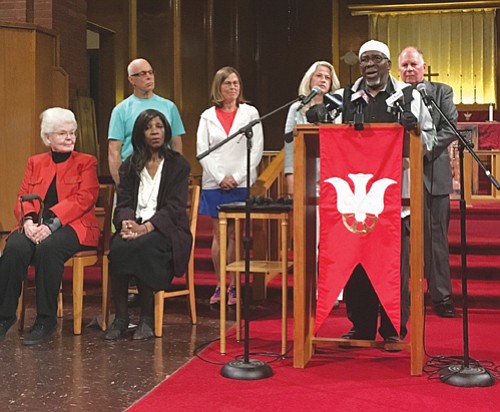 Interfaith leaders of the Measure 43 campaign, an initiative petition to promote public safety in Oregon by banning the sale of assault weapons and large capacity magazines, held a press conference Thursday to announce the next steps needed to reach the Nov. 6 General Election ballot.
Rev. W. J. Mark Knutson, campaign chair and senior pastor of Augustana Lutheran Church, led the conference, which was held at his northeast Portland church. He was joined by chief petitioner Rabbi Michael Z. Cahana of Congregation Beth Israel, and campaign treasurer Imam Muhammad A. Najieb of the Muslim Community Center of Portland. Other faith leaders and committee members involved in the campaign were also in attendance.
On May 23, the campaign received a certified ballot title as approved by the state Attorney General, giving petitioners until July 6 to collect the required 88,184 signatures in order to move the measure to the ballot.
If passed, the initiative would require currently owned semiautomatic weapons and large capacity magazines to be registered by their owners, as well as for the prohibition of the future sale and transfer of these weapons and magazines statewide.
Joe and Janey Paterno, part of a signature gathering training committee for the measure, announced that they are planning on working with volunteers at training sessions across the state to make sure enough people sign on to the measure. Sessions have already been scheduled for Portland, Astoria, Pendleton and Bend.
Tamara Knutson, working on behalf of a youth committee supporting the initiative, emphasized the deadly toll assault weapons and high capacity ammunition magazines have taken on children in school shootings and other incidents across the country.
As public schools in Portland and across Oregon begin their summer breaks in early June, student volunteers will be trained to gather signatures and spearhead the process.
Imam Najieb reiterated the importance of the measure being written in a way to impact a younger generation's safety and well-being.
"What future do we have as a country if we do not prepare the foundation for our children today?" he said.
Knutson also offered condolences on the recent mass school shooting in Santa Fe, Texas, saying that, "We offer not just prayers, but a recommitment to action - we must stop the violence."
The church leader also paid tribute to the victims of the Thurston High School shooting in Springfield, noting the two decades that that have passed since the school shooting in Oregon shocked the nation.
"We have lived with fear of gun violence in our schools for 20 years," he noted.
Rabbi Cahana stated the importance of faith leaders having a higher calling regarding the promotion of gun safety.
"This campaign is intentionally led by clergy people, who have historically taken responsibility of providing comfort to families after mass shootings. Now is the time to provide more than comfort and say 'enough is enough," he said.
Echoed Knutson, "The number of students who have died in school shootings is immoral. And we can do something about it."
More info about the campaign and its signature training sessions can be found at lifteveryvoiceoregon.com.