Teacher of the Year
Educator promotes equity in health careers | 11/6/2018, 3:16 p.m.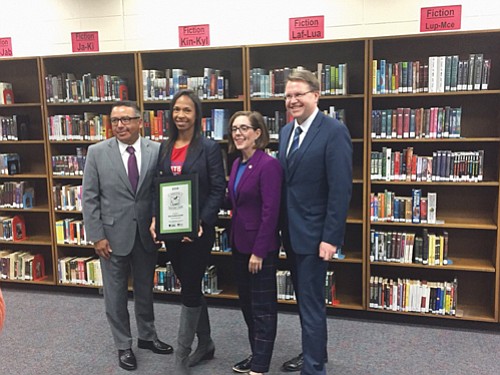 An African-American educator who has focused on promoting diversity and equity in science, engineering, technology, and math (STEM) has been honored with the title of Oregon Teacher of the Year.
With a passion for leadership and a tireless advocacy for her students, Keri Pilgrim Ricker, of Churchill High School in Eugene was presented with the award during a ceremony last month with Oregon Department of Education Director Colt Gill, Gov. Kate Brown, Eugene School District Superintendent Gustavo Balderas, and Churchill High Principal Greg Borgerding.
Pilgrim Ricker has used her background in biology, ecology and animal science to develop a customized curriculum for her students rooted in inquiry and real-world application.
Focusing on career and technical education as a health occupations educator, she champions some of the most in-demand jobs on the market. She maintains a collaborative network of healthcare professionals, non-profit organizations, post-secondary institutions and families to create dynamic healthcare simulation units aligned to her students' career interests.
Her classrooms are also focused on diversity of thought, ideas, people and narratives.
"When students feel the need to discuss a topic I hold that space," she said. "We agree to listen, stay present, accept discomfort, speak our truths and accept non-closure. It is not always easy, but we must model civil discourse and provide students an opportunity for practice so they can navigate the workplace and the world responsibly and with empathy."
Pilgrim Ricker said she looks at education as a partnership formed between students, educators and the community.
"We all must take a seat at the table and support one another in meaningful ways to create a sustainable, holistic and dynamic educational model," she said.
The Oregon Teacher of the Year program honored Pilgrim Ricker by awarding her $5,000, and a matching donation to her school, thanks to Oregon Department of Education and their partner, Oregon Lottery. She won regional Teacher of the Year honors in May and a $500 award.
The Oregon Teacher of the Year is selected after an extensive application process that draws on testimonials and letters of support from administrators, students and colleagues. The teachers are evaluated on leadership, instructional expertise, community involvement, understanding of educational issues, professional development and vision.
Pilgrim Ricker will serve as a spokesperson and representative for all Oregon teachers as the 2019 Oregon Teacher of the Year. She will attend the Washington Recognition Week for Teachers of the Year in Washington, D.C. this spring, where she will meet the President and the U.S. Secretary of Education.
Nominate Next Year's Teacher of the Year
Nominations for the 2020 Oregon Teacher of the Year are now open. If you know of a teacher who is an exceptionally dedicated, knowledgeable, and skilled public school educator in grades preK-12, go to oregonteacheroftheyear.org to submit your nomination. Nominations close Jan. 31.