Horn Section Gives Back
Timberlake musicians to visit MHCC
11/8/2018, 11:42 a.m.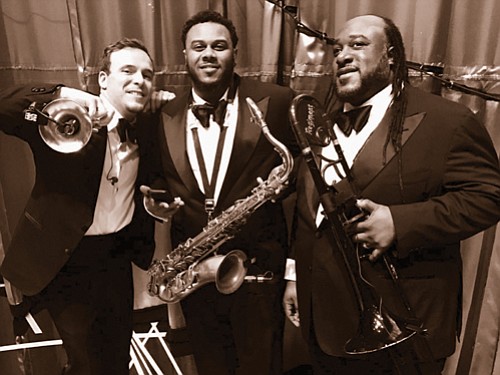 The Regiment Horns, the horn section that performs regularly with singer Justin Timberlake, will perform a concert and masterclass at Mt. Hood Community College while in town for a Timblerlake concert at the Moda Center.
During their stay, the Los-Angeles based trio will stop by MHCC on Wednesday, Nov. 14 for a free public event from 3 p.m. to 5 p.m. at the MHCC Visual Arts Theater. The group appears with Timberlake for a paid concert at the Moda Center two days later.
The Regiment Horns has performed horn tracks for some of the music industry's top performers, including Michael Jackson, Stevie Wonder, Mary J. Blige, and Lady Gage, to name a few. The trio comprises Sean Erick, Kevin Lloyd Williams Jr. and Leon Silva Jr. The three men met at Berklee College of Music in Boston before forming a group in Los Angeles.
"I've known Kevin and Leon for several years and invited them to talk about how they formed and achieved success," said Dan Davey, MHCC Music instructor and director of Jazz Studies. "We're extremely excited to host them for the afternoon, and I look forward to the experience and wisdom they can impart on our students and the great music they'll share with us."