Keeping Nuclear Adversaries at Bay
Portland native on mission as Navy officer
11/9/2018, 10:12 a.m.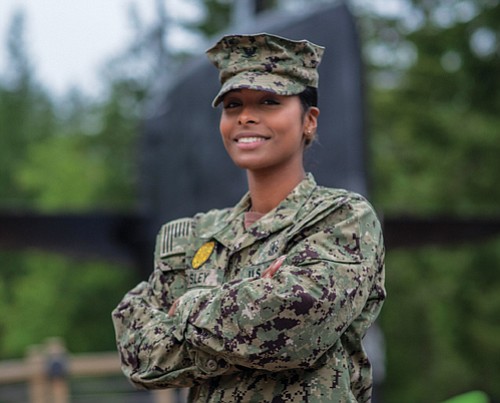 Alika Mosley is a Portland native who has embarked on military career she knows is part of a legacy that will last beyond her lifetime.
As a Petty Officer 3rd Class master-at-arms with the Commander of Submarine Group Nine at the Kitsap-Bangor Naval Base in Washington near Seattle, Mosley is responsible for law enforcement and overall security on Navy installations.
"I enjoy my community, we work pretty intense and rigorous duties and that brings us closer together," she said. "Submariners are a very close-knit group, closer than surface sailors for sure. They want to help each other to the best of their ability at all costs."
Mosley graduated from high school in Virginia in 2012, but also draws lessons from her time growing up in Portland.
"Portland is like a melting pot and it makes you able to relate to multiple walks of life, and that's very helpful in the Navy," she said.
The Navy's ballistic missile submarines, often referred to informally as "boomers," serve as undetectable launch platforms for intercontinental ballistic missiles. They are designed specifically for stealth, extended patrols and the precise delivery of missiles, and they are the only survivable leg of the nation's strategic nuclear forces, which also include land-based missiles and aircraft.