First Preference Housing
Beatrice Morrow first to open under new policy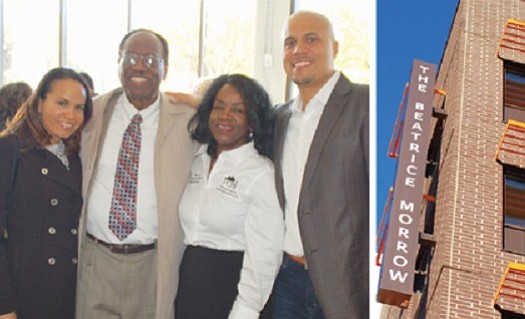 Affordable housing advocates are celebrating the opening of The Beatrice Morrow apartments, an African American- led housing complex that is the first to open under a preference policy for displaced residents.
The building, which opened with a ribbon-cutting ceremony on Thursday at 3368 N.E. Martin Luther King Jr. Blvd. is part of Portland Community Reinvestment Initiatives, Inc.'s (PCRI's) Pathway 1000 initiative, a 10-year plan to construct 1,000 new affordable homes and rentals.
The Beatrice Morrow, encompassing 80 affordable housing apartments prioritized for historic residents of north and northeast Portland, is named after Beatrice Morrow Cannady, a renowned Portland civil rights advocate from the early 20th Century who was editor of the Advocate, the state's largest African-American newspaper at the time, and one of the founders of the Portland NAACP.
"I feel really good, mostly for the community. You know, being able to provide a place that people can return to communities they've lived in for generations," said PCRI Executive Director Maxine Fitzpatrick.
Dr. Bishop Steven Holt, who chairs a community oversight committee on housing policies and anti-displacement efforts, joined in celebrating the Beatrice Morrow opening.
Holt recounted his own past struggling to find housing and make rent in northeast Portland when he was a young married man. He spoke to the importance that housing has on harnessing people's potential.
"At the end of the day, this is about people. We have no idea who will walk these halls. We have no idea who will move into these apartments. We have no idea what doctors, what lawyers, what leaders will come out of this space," Holt said.
The $26.7 building was also constructed under policies to hire minority owned and operated construction firms, including the main contractor Colas Construction, and Carleton Hart Architects, two black firms headquartered in northeast Portland.
Approximately 75 percent of the building's design-phase contract services were done through minority- and women-owned firms, PCRI said, as well as one third of the construction participation.
Citing the many black-owned companies that were contracted to make the building possible as compared to the lack of black construction work on MLK in his childhood, Colas Construction President Andrew Colas called on even more efforts in the future to lift up disadvantaged communities with economic opportunities.
"We are a for-profit company, but we have a non-profit mission. And that mission is to not only create housing, but to create jobs and to create economic development for all communities throughout the United States. And that's important because it leads to education and the future leaders of our country," Colas said.
The building's 80 apartments will be rented to families making no more than 60 percent of the area's median income—currently just $49,000 for a family of four. Apartment sizes range from studio to three bedrooms, with the majority being more than two bedrooms.
There have already been more than 1,500 applications over the course of two weeks for The Beatrice Morrow and a second affordable housing building under construction, an amount that far exceeds the capacities, officials said.

The city's unique right to return policy is intended as a way to make up for the role it has played in displacing many African Americans from inner north and northeast Portland neighborhoods.
Funds the city set aside for affordable housing construction geared to the African American community started at $20 million in 2014, and has since grown to more than $100 million. The funds' intended use is to provide affordable housing for people with ties to historical black neighborhoods who became displaced by urban renewal projects and other gentrification beginning in the 1960s.