In Loving Memory
Laura Mae Barber
11/14/2018, 9:44 a.m.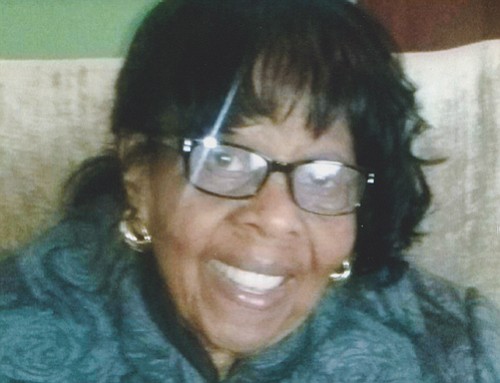 Laura Mae Barber, also known as Mother, Momma, Grandma, Baby Sis, Tee, Aunt Laura Mae and Mrs. Barber to those who loved her, was born July 16, 1923 in Eunice, Louisiana. To the loving union of John and Marie Thomas, she was the youngest of 10 children. Laura eventually moved to Deweyville, Texas and on Feb. 26, 1944 she married Ernest Barber Sr., and they relocated to Beaumont, Texas. Laura and Ernest had two beautiful children, Ernest Jr. and Rose Marie. In 1946, the family relocated to Vanport, Ore., and 15 years later, the family once again expanded to include two more beautiful additions in the personage of Marvin Duane and Trina Janetta.
Laura was a very skilled beautician, who did not mind doing various jobs to provide for her family, but working as a beautician was undoubtedly her passion and what she was best known for. Ernest Sr. helped Laura install everything that she needed in the basement of their home so that could perfect her trade. Let me say that Laura pressed and curled many heads in that basement, many that are here with us today. She continued doing hair well into her 80's.
To know Laura was to love her, she was genuinely one of the kindest, most giving hearts you could ever hope to know. To say she had a heart of gold would certainly not be an overstatement.
Laura was a long standing member of the LTO Club, and for those of you wondering what the LTO club stands for, it was for the Louisiana, Texas and Oregon Club. She was also a member of the Grand Nighters for a very long time, and really enjoyed the gatherings that these organizations had because it gave her yet another opportunity to do what she so richly enjoyed, and that was to love on family and friends every chance she had.
Laura enjoyed dancing and entertaining family and friends were just some of her favorite pastimes. Please do not forget the wonderful food that she would regularly prepare with an abundance of love. Her home was an open place, and an inviting place where all were welcomed and loved.
A few interesting things to know about Laura were, she really enjoyed traveling and was blessed with the amazing experience of traveling to the continent of Africa and all throughout the United States. Laura was a serious Blazers fan. She enjoyed going to the games, or often she would have a house full of family and friends over to eat and watch the Blazers play. She loved her family, and she loved the Lord.
Laura was preceded in death by her beloved husband of 55 years Ernest Barber Sr. and her daughter Rose Marie Barber-Brown, as well as, all nine of her siblings. She leaves to celebrate her life, two sons, Ernest Barber Jr. wife Barbara, Marvin D. Barber, one daughter Trina J. Polk husband Joshua all of Portland; 20 grandchildren, 37 great grandchildren, 25 great-great grandchildren, many nieces and nephews, and a host of relatives and friends all of whom she showered with love.
Laura's life was a life well-lived. Not many get the amount of time on this earth that God so generously granted to her. She loved, she was loved, and she will be sorely missed!