Ripped Away by Evil, Cruel Racism
A brutal slaying 30 years ago
U.S. Sen. Ron Wyden | 11/14/2018, 9:49 a.m.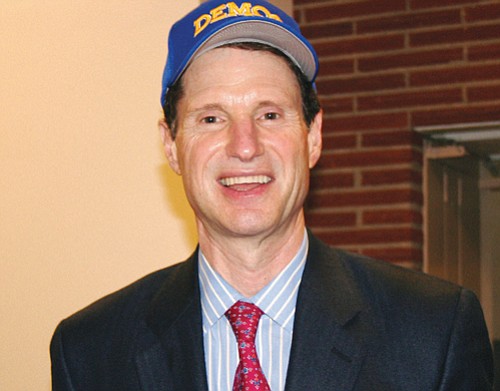 (Editor's note: U.S. Sen. Ron Wyden, D-Ore., presented the following testimony before Congress to mark this week's 30th anniversary of the murder of black immigrant Mulugeta Seraw by racist skinheads in Portland.)
Mr. President. This November, my hometown of Portland marks a somber occasion: The 30th anniversary of the murder of Mulugeta Seraw, a 28-year-old Ethiopian college student, by racist skinheads.
This horrific case galvanized the city, as well as the state of Oregon, to stand up to hate crimes and acts of violence by the neo-Nazi movement in the Pacific Northwest.
While this brutal slaying happened 30 years ago, it remains fresh in the minds of many who lived through that time and for people who still experience discrimination and hate today.
Mulugeta's path to our country mirrors those of so many others who came to America. He came to the United States seeking an education. A college student in Portland, he worked multiple jobs and remitted money to Ethiopia to support his son, Henock.
Mulugeta, like many immigrants who come to America, was simply seeking opportunity. His family and friends describe him as a kind, hard-working man. He had friends and family whom he supported and loved. All this was ripped away by evil, cruel racism.
As a result of the cruelty done to Mulugeta, community members, civil rights lawyers, judges, elected officials, and nonprofits came together and demanded justice be served. They succeeded. The case attracted national attention, and thanks in part to the great effort of the Southern Poverty Law Center, the White Aryan Resistance and its leaders who were behind this heinous crime were bankrupted and jailed.
While no prison sentence could bring back Mulugeta, Oregonians stood and stand in solidarity with Mulugeta and his family and friends to make clear we will not let hate crimes and violence take over our communities.
We have to remain vigilant, and we have to continue the fight. We must recognize our own troubling present in Oregon, which unfortunately has an awful history as a home for white supremacists, because to not know our own history dooms us.
In the years since Mulugeta's death, there have been horrific acts of racially charged violence in Oregon.
In May of 2017, a self-proclaimed white nationalist verbally attacked two women who were riding Portland's MAX light rail. One of these two women was wearing a hijab. The perpetrator stabbed three men who defended the women against the racist and Islamophobic rant, killing two of them.
There have been horrific racist acts throughout the Nation. The march and murder in Charlottesville is another clear example of how these white supremacist ideals and concepts continue to draw breath in our country.
Like Oregonians speaking out in remembrance of Mulugeta Seraw, we must all speak out against hate. It has no place in our country, including in our White House.
This year, as we remember the 30th anniversary of the murder of Mulugeta Seraw and 50th anniversary of Dr. Martin Luther King, Jr.'s assassination, I would like to acknowledge the many organizations in Oregon that fight for peace and justice every day on behalf of marginalized communities.
I would like to especially acknowledge members of these communities who are resilient and strong. I stand with them today and every day.
Oregonians will come together to remember and celebrate the life of Mulugeta Seraw during a 30th year commemoration conference organized by the Urban League of Portland. I am honored to add to this remembrance with this Congressional Record.
May Mulugeta and his story never be forgotten, and may we remember, learn, and change.
Democrat Ron Wyden represents Oregon in the U.S. Senate.