Kenton Community Thanksgiving
11/20/2018, 3:11 p.m.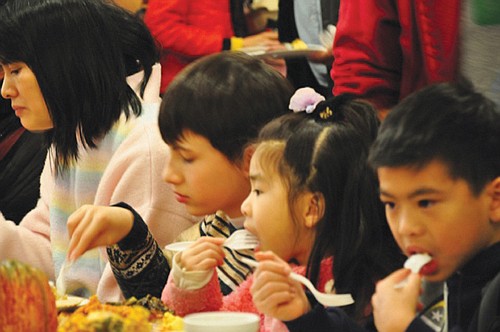 All are welcome to celebrate Thanksgiving and enjoy a free holiday meal when Celebration Tabernacle in the Kenton Neighborhood opens its doors for its annual Thanksgiving Day Feast-ival, Thursday, Nov. 22 from noon to 4 p.m.
The holiday event is sponsored by the local community uplift organization Proper USA with partners at Po'Shines Café de la Soul, Celebration Tabernacle and local Kenton neighbors. Residents of any race, class, ethnicity, gender, sexual identity, ability, nation of origin, age, and religion are welcome.
Chef James Bradley and the Po'Shines team are creating a fresh, high-quality menu featuring traditional Thanksgiving favorites and innovative new dishes. There will also be music, entertainment, and kids' activities, an inclusive community experience.
"We jump at opportunities like this," says Chef Bradley, "The more we can get people working together, talking together…and even eating together, the stronger we are as a community."
Proper depends on neighbors to support its mission of uniting community across all lines. Donations are always encouraged. For more information or to make a donation or volunteer, visit properusa.org.