Police Again Confront Protests
Dueling clashes not as severe, but arrest made
11/20/2018, 3:39 p.m.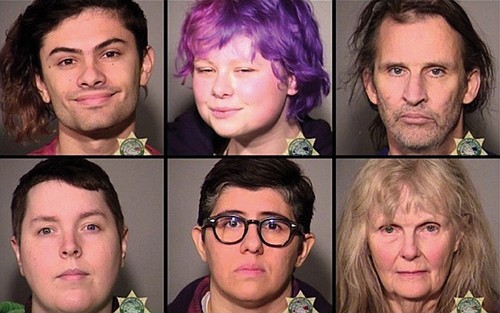 A series of protests Saturday resulted in a mostly peaceful separation of right-wing and counter-protesting left-wing demonstrators by Portland police, though the protests devolved into some skirmishes near the end of the planned events and six were arrested.
The protests took place in a pair of parks near Portland's City Hall, downtown.
Left-wing protestors started moibilizing Saturday morning in response a planned demonstration later in the day by an offshoot of the right-wing group Patriot Prayer which rallied in support of the so-called "Him Too Movement," which claims that men are being oppressed and abused by unfair prosecutions of sexual assault, a response to the Me Too movement.
By late afternoon, Portland police and other law enforcement officers successfully separated the two sides for more than three hours, shutting down a portion of Chapman Square and some sidewalks adjacent to Terry Schrunk Plaza.
When the Patriot Prayer group appeared to disperse, but held an impromptu march downtown, some skirmishes broke out when they intentionally tried to clash with masked, black-clad antifascists.

Police gave dispersal orders to the crowds, but it failed to de-escalate the situation. The assaultive behavior by some of the people attending the protests included the throwing of projectiles at demonstrators and officers, including sticks, glass bottles, lit road flares, bottles filled with what police believed was urine, and gopher gas, authorities said. Police said they used a rubber ball distraction device for crowd control.
Six were arrested, including five charged with interfering with a peace officer: Brittany Frost, 35; Elizabeth L. Cheek, 33; Ruben A. Delahuerga, 25; Betsy Toll, 68; and Gary Fresquez, 52. Fresquez was also charged with disorderly conduct and the sixth person arrested, 19-year-old Hannah R. McClintock, faces a harassment charge.
Portland Police Chief Danielle Outlaw released a statement shortly after the protests:
"The Portland Police Bureau spent considerable time planning for today's demonstration and counter demonstration," Outlaw said. "We used significant resources and attempted to keep opposing groups apart, both when they were in the parks and as they traveled through downtown. Our goal was to keep all people in the community safe."
The demonstrations came on the heels of a decision by City Council to reject a proposed emergency ordinance from Mayor Ted Wheeler, and backed by Outlaw, that would've given Wheeler the power to dictate time, place, and manner regulations for demonstrations when there is a threat of violence and other special circumstances.
"The ordinance would have allowed for more tools for use outside of a park that don't already exist in code," Wheeler Tweeted as the demonstrations were winding down Saturday.