Serving for Thanksgiving
11/20/2018, 3:07 p.m.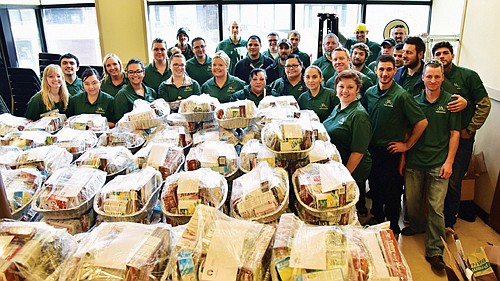 Union Gospel Mission is reaching out to make Thanksgiving a happy occasion for all. The downtown mission plans to serve over 800 meals for the homeless, low income or anyone in need on Thanksgiving Day, Thursday, Nov. 22 from 10 a.m. to1 p.m. at 15 N.W. Third Ave.
The meals are served in a large heated tent in front of the mission. Guests will also enjoy live music and receive a gift bag with hand warmers, a first aid kit, hygiene items, and a blanket. New this year will be a resource table with staff and volunteers ready to help guests connect to community resources.
In addition to turkey, the menu includes real mashed potatoes, stuffing and fresh candied yams, turkey gravy, cranberry sauce, pumpkin pies with whipped cream, dinner rolls with butter and coffee.
This mission can still use donations. Turkey and coffee donations can be dropped off at 3 NW Third Ave. Financial donations can be made online at ugmportland.org or by mailing a check to the Union Gospel Mission at 3 N.W. Third Ave., Portland, OR 97209.