Maxville to Vanport
Musical journey a focus on two historic black towns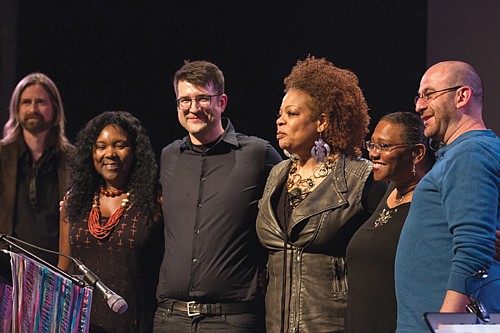 A couple of years ago, five diverse Oregonians stood in the middle of an empty, snowy field in northeast Oregon — a vocalist, a composer, a filmmaker, a historian, and an artistic director — and each of them knew they were onto something special.
All of them were familiar with the history of Vanport, but most had just recently learned of similar history about they were standing, the former settlement of Maxville, near the town of Wallowa in northeast Oregon. Like the black laborers who came from all over the country to build ships in Vanport during World War II, another migration of African Americans had come to Maxville to work in the logging industry in the 1920s and '30s.
The group in the cold field that day, where Maxville existed from 1922 to 1933, was composed of artistic director Douglas Detrick, executive director of the Portland Jazz Composers Ensemble; jazz composer and pianist Ezra Weiss; historian Gwendolyn Trice; jazz and gospel singer Marilyn Keller, and historian and filmmaker Kalimah Abioto. S. Renee Mitchell, a poet, lyricist and author, had visited the site earlier.
Those six people had one collective goal: To tell the stories of both Vanport and Maxville through song, original music and film, a goal they accomplished earlier this year and performed to acclaim several times this spring. A CD of the music "From Maxville to Vanport" was released earlier this month, and more performances of the music and film showings will be held in Corvallis in February, in Portland in March, and possibly beyond.
Trice provided historical research and Mitchell wrote the lyrics. Weiss composed the music that was sung by Keller and for two films created by Abioto. Detrick is creative director for the entire project, and the music is performed by Detrick's jazz ensemble. CDs are available at pjce.bandcamp.com.
The multi-layered project, according to Detrick, looks at the history of both towns and highlights the need to showcase the under-representation of black people in Oregon history by looking honestly at the prejudice they faced and celebrating "their resilience, courage and important contributions to Oregon through jazz, R&B and blues."
Each of the songs has a different theme and tells a different aspect of experiences of the residents of the two communities. Mitchell said she relied heavily on the expertise of historian Dr. Pearl Alice Marsh, whose father was a logger at Maxville, and helped put her in touch with descendants of those who lived in the town, as well as the feeling she got while standing at the long-abandoned logging site.
"Being on a quad of land where Maxville was once located, everything has its own energy," she said. "To allow the words to come and giving them over to Ezra, who is a musical genius — we had the right people, the right kind of process and everyone brought their 'A' game to the table."
Mitchell said the evolution of the project also included feedback from community members after preview performances earlier this year.