Maxville to Vanport
Musical journey a focus on two historic black towns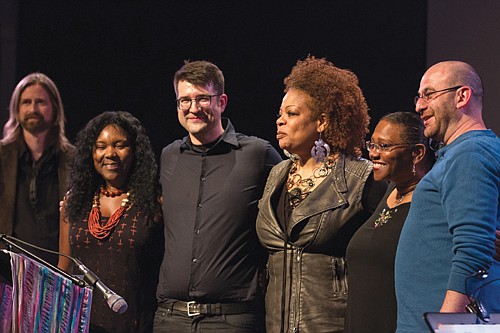 "We invited people to glean it, to really hear the themes we try to make present, themes of resiliency, themes of really appreciating the connections people made to help each other survive," she said. "One thing that came out that was profound – how they had to lean on each other to be able to make it during those times, like how high the snow was, how cold the wind and rain was coming through the walls…I'd love to keep telling this story."
Mitchell added that she's even like to see "From Maxville to Vanport" made into a musical.
"There may be a play coming down the pike at some point, maybe as (part of) some curriculum," she said.
That would be just fine with Keller, as she recalled the evolution of the music from those early preview performances.
"We polled the audience and they said we were on the right track, but they wanted to hear blues and jazz and the music of the African Diaspora," she said. "And I think Ezra and Renee both captured that."
Keller said she and Weiss had worked together before and by the time she started singing the music, it had become part of her. She also recalled that trip to Maxville and how it affected her.
"When we went to the campsite of Maxville, standing in the cold and snow and still feeling the ghosts of the past, I knew this was something we were going to be affected by."
The result reflects many different styles of music, from the upbeat "Oregon Sounds Like Freedom" to the haunting strains of "What do Your Trees Tell You."
"Woman's Work" tells of the hardships women in the settlement went through: "Sleep is like a tourist, who don't know where it belongs. It don't come regular, don't stay long."
The theme of the entire endeavor could be summed up in the words Mitchell wrote for "Maxville to Vanport," one of the songs on the CD: "Oregon didn't want black folks to stay; But we planted roots here anyway."
Weiss said Mitchell's lyrics came first, which inspired him.
"Renee is not only a poet but was also a reporter with the Oregonian for many years, so she was able to bring in the facts of the story and put it in this sort of poetic treatment," he said. "She was able to create art from that, and for me it was to just get the vibe."
Getting his vibe was not difficult, Weiss said, because of Mitchell's style.
"When I read her work it just evokes melodies in my head and makes my job really easy," he said.
Weiss said the African American experience was the focus of the project, but it's also about survival through coexistence.
"Both Vanport and Maxville had large black communities but really were examples of diverse communities, at a time when that was not really a thing in Oregon," he said. "It's telling the story of this history that has been overlooked."