Maxville to Vanport
Musical journey a focus on two historic black towns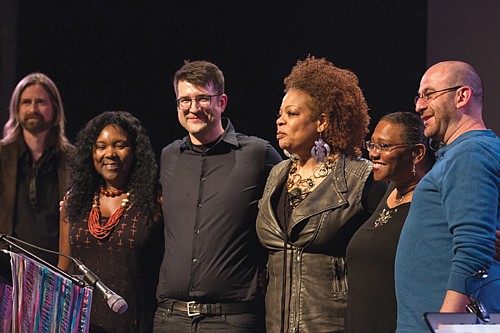 Fortunately, the nonprofit Vanport Mosaic, of which Mitchell is a co-director, hosts an annual festival and has done a good job of telling that former community's story, but the Maxville story is lesser known, Weiss said.
"Now the Maxville story is being told about the loggers – especially when at the time of Maxville it was against the law to be black in Oregon – and to tell story that hasn't been told at all."
Weiss said the project has had wide appeal, and at a performance in May at the Alberta Rose Theater, people in the audience included many whose parents had lived in Maxville, and who may have grown up there.
"People came from all over the country to see the performance, and that really touched me," he said. "Getting to write something that really, directly connects to people's stories and experience – for me as a writer, that was really powerful."
It was also a powerful experience for artistic director Detrick, he said, but it would not have been possible without a significant grant from the Oregon Community Foundation that allowed the group to risk something novel.
"It is really great project for us — to let people experience a more complicated side of state's history," he said.
Detrick said growing up in Oregon, the contributions of African Americans were not mentioned in his history classes, "almost if they weren't here," but "From Vanport to Maxville" helps to change that dialogue.
"What we want to celebrate is an even more varied and rich history, how we got here and where we can go. We can take some pride and some joy in that," he said.
The next local performance of "From Maxville to Vanport" will be at the Mission Theater on March 3 as part of the PDX Jazz Festival. As with previous performances, the music will performed by the Portland Jazz Composers Ensemble, which also plays Weiss' compositions to accompany two film shorts by filmmaker Abioto, "Marjorie," which tells the story of a woman who leaves the hardscrabble existence of Maxville for the bright lights of the city, and "Water" which relates the tragedy of the 1948 flood that destroyed Vanport, and features survivor Ed Washington.
--Beverly Corbell
Editor's note: This story was corrected from an earlier version to show that S. Renee Mitchell gave credit to historian Dr. Pearl Alice Marsh, whose father was a logger at Maxville, for helping her make contact with the actual descendants and write about the experiences of those who lived in the town. We regret attributing the help to another member of the creative team Mitchell did not name.