Tattoo Removals Empower Change
PCC leader helps turn lives around
11/27/2018, 4:51 p.m.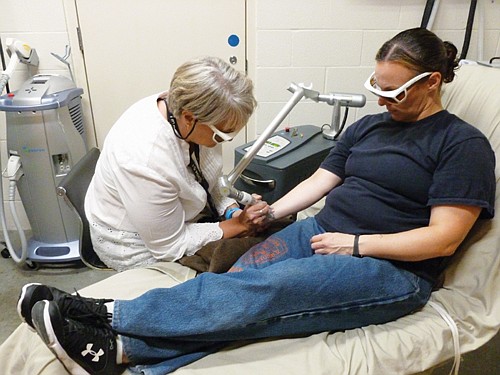 Tattoos can be reminders of the past and a lifestyle that is best left behind. For the women housed at Coffee Creek Correctional Facility they have the opportunity to start anew as they transition towards becoming members of our community.
In March of this year, the Department of Corrections, in partnership with Portland Community College, began a tattoo removal program at the women's prison in Wilsonville.
Tammy Kennedy, a PCC leader who contracts with the institution, runs this potentially life-changing initiative along with Coffee Creek's hair design program. Kennedy has a certificate in Advanced Esthetics, which she pursued in part, to bring additional treatment, skills, training and certification options to the incarcerated women.
As she operates the tattoo removal laser she says, "Many of these women come to our facilities with anti-social tattoos. Whether they are gang, drug or domestic abuse related tattoos, helping them remove that part of their past is rewarding work. Many of these tattoos were directly related to what brought them here. What they once thought was permanent can now be a thing of the past."
One incarcerated woman wrote about her tattoo removal experience, "For 22 years, I've had a shackle around my ankle, the permanent brand of a past abusive relationship that I've had to be reminded of every day as I put on my shoes. The tattoo removal program that you brought to Coffee Creek is changing that."
To date, 362 people have been treated and approximately 750 tattoos have been, or are in the process of, being removed. The longer term objective is to bring tattoo removal to the men incarcerated, as well.