Gingerbread Adventures at OMSI
Innovation and food science combine for holiday fun
11/28/2018, 9:28 a.m.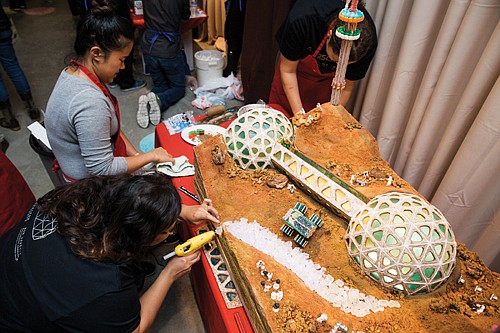 This holiday season, jingle all the way to the Oregon Museum of Science and Industry (OMSI) to see towering sculptures, sweet science demonstrations and build-it-yourself workshops for Gingerbread Adventures, on view through Jan. 1.
Local architecture firms and bakeries have teamed up to design and build gingerbread sculptures focused on the theme "Egypt," highlighting the innovation and food science that goes into assembling the elaborate sculptures.
"The last two years of Gingerbread Adventures have been so much fun, and I'm always impressed by the creativity of the teams," said Melony Beaird, OMSI events manager. "The architect firms really push the boundaries of what the bakers can accomplish with edible materials, and you will see new and innovative ways to use gingerbread and sugar."
Evening workshops will be held Dec. 13, 18 and 20. Tickets are $20 per gingerbread house (up to 2 people per house). Gingerbread Adventures is included with general admission to the museum and will be on view through Jan. 1.