Biggest Chair at the Table
Black owned firm grows into major employer
From humble beginnings to winning multi-million dollar contracts, the black-owned construction company Raimore Construction of northeast Portland has proved what positive benefits can happen to communities of color when government agencies and other private contractors invest in contracting with small and minority businesses.
Raimore Construction was formed by Jeff Moreland Sr. and Andre Raiford, whose last names combined to form the company's namesake. The firm's ties to TriMet started in 1999 when it provided flagging and trucking services for the transit agency's Interstate Max project. Since then they've grown from just two employees to 80 and expanded their skill sets, providing streetscape and structural steel work.
The company is now in line to land the largest ever contract for a Disadvantaged Business Enterprise (DBE) in the state of Oregon for TriMet's new Division Transit Project, a contract that is estimated to be worth $60-$65 million. The size of the job is expected to graduate Raimore out of its status as a DBE.
"We're just super excited. To us, it's like the biggest chair to the table that we've ever had," said Bill Bruce, Raimore project manager and the company's second-in-command.
The business relationship between Raimore and TrMet is 20 years in the making and has brought economic stability to a minority-owned firm that has a workforce that is more than 50 percent minority based.
Raimore also has gained the ability to manage multiple subcontractors who are often fledgling minority businesses themselves, mentoring and helping them grow along the way. Members of Moreland's family also work for the company.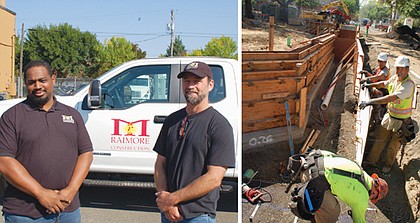 "TriMet knows what they can expect from us. That's one of the cornerstones for which we were able to win the project," Bruce said.
Though Bruce has only been working with Raimore for the past two years, his relationship to the firm has spanned over 20 years as he worked for one of the prime contractors for the Interstate Max Project under Stacy and Witbeck, a Bay Area contractor who enlisted Raimore for trucking and flagging services during the project.
TriMet's approach to that project is lauded by Bruce and is generally considered to be a landmark national model for the federal DBE program.
"Interstate Max was the largest public project that had meaningful involvement from local minority firms, specifically black firms," Bruce said.
National Association of Minority Contractor co-founder James Posey of Portland, then-TriMet executive director Fred Hanson, and others were instrumental in setting up the Interstate Max Project's DBE program at the time, providing meaningful opportunity to minority firms in Portland.
Bruce, under Stacy and Witbeck, helped Raimore acquire some of the skill sets they needed to grow as well. Stacy and Witbeck held monthly classes for Raimore and other DBE firms on finance, payroll, invoicing, and other subjects to assist in their businesses, a TriMet workforce study stated.
Since then, the company has grown tremendously, in part due to continued work with TriMet for varying projects over the years.
Two years ago, for instance, Raimore was the recipient of a $6.8 million contract to build shelters for the Max Orange Line servicing Milwaukie. That was considered at the time be the first black general contractor to complete a major construction project in Oregon.
The project earned praise from Posey, who in 2016 called TriMet a "perennial leader among governmental agencies for successful results in hiring and supporting minority contractors and workers over several decades."
In addition, Max Orange Line shelters were Raimore's largest contract ever. That high water mark is expected to be topped by the upcoming Division Interstate Project, in which Raimore will also be building shelters and street improvement work to accommodate a new high-capacity bus service stretching a 15 mile corridor between Gresham and Downtown Portland.
Raimore received a $395,000 contract for the pre-construction phase for the Milwaukie project. The contract on the Division project may happen as soon as early 2019.