Designer Turns Skills into Business
Driven by passion and finding a niche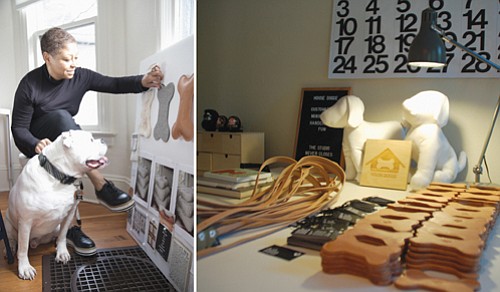 Angela Medlin, a seasoned African-American female designer with more than 25 years experience working for big-name companies like Nike, Adidas, Levi Strauss, Eddie Bauer and The North Face, has transformed her skill set to support a passion for entrepreneurship by launching two companies—one to feature indoor dog accessories from the home market and another to teach young designers of color how to break into the design industry.
Medlin, 50, told the Portland Observer that her pet accessory brand, called House Dogge, was started after she left her own design director position at Nike back in 2016. Her Functional Apparel and Accessories Studios is an educational program which partners with two other design labs, MLAB and Pensole Footwear Academy, and other former design directors at Nike, to create a six month program at the Pacific Northwest College of Art.
Taking inspiration from product designs across the globe, House Dogge was inspired by the kind of purposeful and sustainable products she'd seen while traveling around the world, in places like Japan.
After collecting products for pets and putting them on a wall in her home, she wasn't quite sure where the business was headed. But soon she discovered a niche in the market for consumers who want dog toys that were actually fashionable within the home.
"I want to do something that's really personal to me and close to my lifestyle. And so what I did. I started looking at dogs who live indoors and how people live with dogs. And I realized that that's not being addressed in the industry in that pet brand industry so much," Medlin said.
Medlin realized that stylish dog toys that didn't sully the feng shui of their occupying house interior was a product that she herself would want to buy and decided to take a crack at creating and selling them herself.
She's enjoying an ever-expanding number of retailers who sell her accessories, which include sustainable and non-toxic products like vegetable tanned leather tug toys, an origami-inspired leather waste bag pouch, and a comfort leash made of leather and wool.
The company also supports the Pongo Fund, which provides quality food and vital veterinary care for the family pets of anyone in need.
Medlin was "heartbroken" when herOlde English Bulldogge, Wubbi, who is still the face of the company on its website, sadly passed away just a couple months ago.
Still, her canine friend would be proud to see the company's growth. Just a few weeks ago, Medlin attended her first trade show in New York City, sponsored by the city's economic development agency Prosper Portland.
Reflecting back on her career, Medlin said being an entrepreneur was a natural next step.
"My work was never 9 to 5, but you know, I can never just do that," she said. "I always had like a side thing when I was working and so now I'm just doing that full time and it's no different for me. But if you're not that person who wants to work 14-16 hour days then it's probably not going to work out. And I think in order to be to create something amazing you have to believe in what you're doing. You can't just do it for the money."