Occupy PSU Protest
Call to disarm campus security enters second week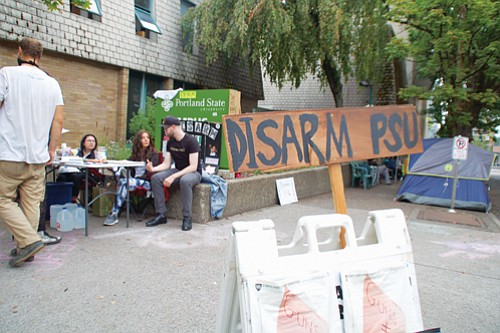 Portland State University students began a second week of camping outside the offices of the university's Public Safety Office on Monday to protest the campus officer-involved shooting death of Jason Washington and call for the disarming of campus police entirely.
Washington, 45, a Portland African American father and grandfather, U.S. Navy Veteran and postal worker, was shot and killed by campus police on June 29 while trying to break up a fight outside the Cheerful Tortoise near the urban campus.
The protesting students also are calling for the firing of the officers involved, and asking PSU to install and pay for a permanent memorial on the campus to recognize Washington's death.
Portland State Student Union member Kella Carlson, a junior at the school, said the over 2,000 signatures received so far for a petition in support of the student demands, "Just further shows that the community, students and faculty don't want campus security to be armed."
Carlson said the occupation of the campus security office has been "exhausting," citing the difficulty of scheduling around class obligations and sleep deprivation.
The two PSU officers who shot Washington were cleared of all criminal wrongdoing by a grand jury last month. Washington was shot as police responded to a disturbance outside the bar and Washington's lawfully-carried handgun fell out of his holster. When he went to pick up the gun, police told him to drop it and fired 17 times.
The school's Board of Trustees is holding a meeting on Thursday, which will cover a myriad of topics according to the meeting agenda on PSU's website, though the policy to arm campus police isn't specifically mentioned.
Carlson said the student union plans to jam-pack the meeting with students, community members, and faculty, to make their cause known.
"We're here to take a stand and show them that we don't want this," Carlson said.
In the aftermath of the grand jury decision, PSU President Rahmat Shoureshi has stated his commitment to investigating both Washington's shooting death and the schools' police armament policy. The Board of Trustees also signaled they'd carefully consider whether to continue the policy.
The school's decision to arm campus officers has been a source of controversy from student groups, faculty, and activists since the Board of Trustees approved the policy in 2014. Washington's death marked the first officer-involved shooting in the school's history.