Barber Opens Retro Shop
Business start follows a passion for nostalgic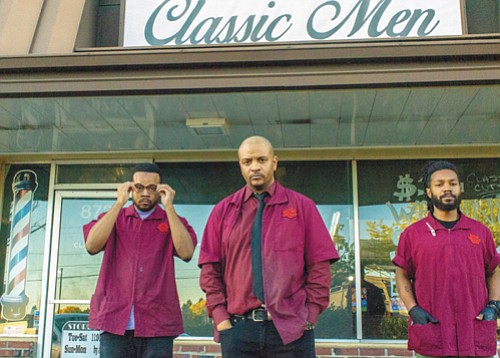 A local barbershop is bringing old school cool to the way they cut men's hair. Classic Men in southwest Portland is a retro–style barbershop that delivers modern and traditional cuts in a nostalgic atmosphere.
Started by Franklin Whatley, who is originally from Cleveland, Ohio, the seasoned barber noticed a shortage of "barber nostalgia" at many shops—the classic stripped poles, badger hair shave brushes, and overall vibe of debonair was slowly disappearing from modern day men's grooming establishments.
That's when he discovered his niche and opened the shop back in 2016, providing men with a range of traditional and modern barber services in a suave and relaxing setting.
Whatley, 37, told the Portland Observer that an interest in haircutting came only natural to him, coming from a large family where he was the youngest of seven barbers.
"Three of my uncles owned barbershops. It was always a fun place, it was always something I looked up to," Whatley said.
Wishing to duplicate the nostalgic feel of Will's Barbershop in Cleveland that one of his uncles owned, which he worked at for five years, Whatley created his own version in Classic Men.
Terrell Brandon, retired NBA all-star who played for the Cleveland Cavaliers, used to frequent Whatley's family barbershop back in Ohio. Brandon, who is from Portland, become a family friend and has known Whatley since he was 11.
Brandon went on to open up his own barbershop in Portland on Northeast Alberta Street and enlisted Whatley to work there, where he honed his skills over the next decade cutting men's hair.
Whatley went on to teach at Beau Monde Academy of Cosmetology from 2010 to 2012. He would eventually enlist three of his star pupils, Ahmad Lewis, Taryn Jones, and Isiah Simpson, to help him run his shop.
"I tell you man, those guys are great. I love working with them. It's like working with friends," Whatley said. "My business doesn't run without them, they're the back bone of it," he added.
The camaraderie is one signature feature of the shop, Whatley said, where inside jokes amongst his employees, like throwing a "penalty flags" in jest for something out of line said in a conversation, leaves a big impression on customers.
"Classic men barber shop is the kind of place that is not easily forgotten. You're going to think about it for a couple of days," Whatley said.
When asked what advice he had for up and coming entrepreneurs, Whatley warned they should be ready to lose and learn from it.
Opening his shop was something Whatley described as the hardest thing he's ever done and emphasized passion as a major driving force.
"You probably got to want it more than you want to breathe," Whatley said. "You have to persevere," he added.
For fresh cuts and a cool atmosphere, check out Classic Men Barbershop at 8735 S.W. Canyon Lane or visit classicmenpdx.com for more info.