The Discovery of King Tut
A compelling insight into the discovery of pharaoh's tomb
10/4/2018, 6 a.m.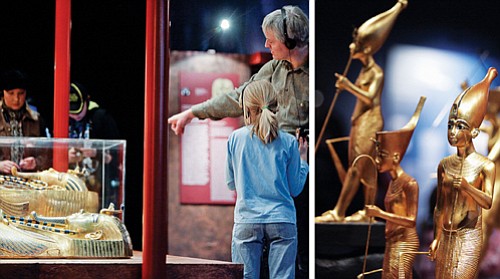 The Discovery of King Tut, an exhibition about one of the most significant archaeological discoveries of the 20th century, opens on Saturday, Oct. 6 at the Oregon Museum of Science and Industry (OMSI).
The reproduction of the burial treasure in its original archaeological context offers a compelling insight into the historically unique discovery of the Pharaoh's tomb in the Egyptian Valley of the Kings more than 95 years ago. A discovery that remains unparalleled to this day: a virtually intact pharaonic tomb with all its treasures.
"Egyptian antiquities from King Tut's tomb very rarely travel outside Egypt, but these exquisite reproductions contain all of the beauty and detail of the originals. This exhibition allows our guests to enjoy these priceless Egyptian treasures without ever harming the fragile, sensitive originals," said Nancy Stueber, OMSI president and chief executive officer.
The treasures of Tutankhamun still count among the most significant archaeological discoveries ever uncovered. Since British archaeologist Howard Carter stumbled upon the Pharaoh's tomb in the Valley of the Kings, the fascination inspired by the thousands of burial goods, the golden coffins and shrines, the masks, the jewellery and the fate of the king who died young has remained unbroken.
The exhibition leads you right to the heart of Tutankhamun's tomb, presents his treasures and explains them in context allowing people the chance to relive what the British archaeologist Howard Carter went through in November 1922."
Tickets to "The Discovery of King Tut," which include general museum admission, are $22 for adults, $15 for youth (ages 3-13), and $18 for seniors (ages 63+). Guests can purchase tickets online at omsi.edu, via phone at 503-797-4000 or in person at the museum.