Diversity Embraced at Local FBI Office
Agent's service is a second career
10/5/2018, 6 a.m.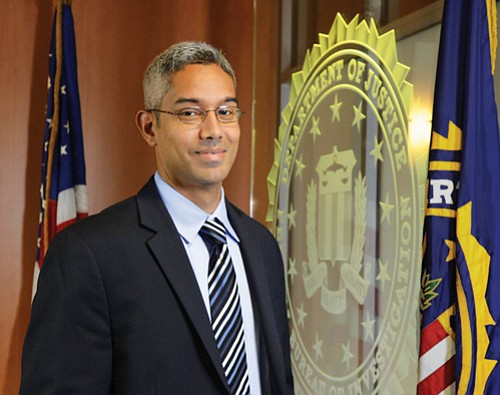 From bakers to bankers and teachers to truck drivers, the FBI is made up of people from every potential background, and these "unexpected agents" help to make the Bureau both strong and successful.
The FBI currently has about 13,000 Special Agents. Over its 110-year history, the agency has been known for hiring accountants, lawyers, former cops, and military veterans to fill those jobs. The Bureau also knows, though, that diversity in all ways at all levels makes the agency a better advocate for the people it serves: you!
Portland FBI agent Yaqub Prowell is one of those who didn't plan on joining the FBI. With an undergrad degree in math and physics and a master's in education, he started his professional life as a middle school math teacher in the Bronx, New York. During his senior year in college he witnessed first-hand the devastation of the 9/11 attacks. Those images haunted him during those early teaching years and eventually drove him to apply to the FBI in 2009.
"In the FBI we are working toward a more diverse and inclusive culture to better reflect those we serve. I, myself, am half Black and half Latino. We need to embrace different races, cultural perspectives, religions, and lifestyles. We need to promote more people of color and women. We also need to better engage those who have a variety of educational backgrounds, life experiences and skills."
Special Agent Prowell currently serves on the FBI's Oregon Cyber Crimes Task Force investigating cyber intrusions, ransomware attacks, and fraudsters. Left unchecked, these kinds of crimes can force a store owner or service provider out of business.
"I want to help protect these people and these livelihoods. Strong businesses mean good jobs – and that leads to stability and safety in our neighborhoods for younger generations."
If you are interested in learning more about how you can serve your community in new and fulfilling ways, be sure to register for the FBI's "Unexpected Agent" recruiting event in Portland on Thursday, Nov. 29, from 6 -8 pm. You must reserve your spot by Nov. 15 by emailing portlandapplicants@FBI.gov. Those who register will receive more information about the location and program.
To qualify as an FBI Special Agent candidate, you must be a U.S. citizen; between the ages of 23 and 36; have earned a bachelor's degree or higher; and have three years professional work experience.
For more information, check out the FBI's recruiting page at FBIjobs.gov.