On Race and Class
Profile Theater tackles a divided nation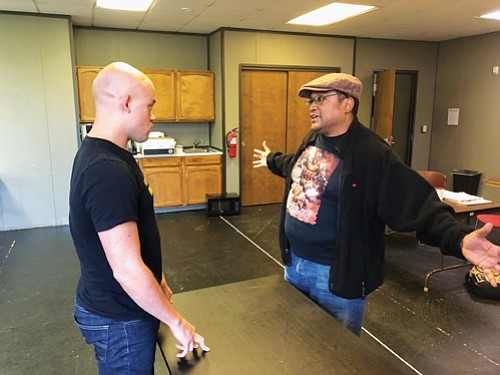 At a time in our nation when there is much division, giving a theatrical voice to the diversity in our humanity is a great way to start a dialogue. Portland's Profile Theatre, in its current new season focusing solely on female and person-of-color playwrights, is featuring a production that allows for complex conversation from two seemingly different minority groups.
Led a black actor and director of color, the play "Fires in the Mirror" is a groundbreaking theater production that gives voice to the people directly impacted or involved in the unrest that ensued in Brooklyn, N.Y. after a racial and religious tragedy. Based on true events, the play follows the tension that occurred in 1991 when an African-American child was hit and killed by a car in a rabbi's motorcade and a Jewish man was slain in retaliation.
The one-person play stars Portland actor Seth Rue, who transforms himself into multiple real-life witnesses to the Crown Heights riots. The show is directed by another local favorite, Bobby Bermea. "Fires in the Mirror" was written by Anna Deavere Smith, an African American actress, writer and educator who has dedicated her career to exploring the intersection of art and social justice.
In 1992, Deavere Smith performed the lead role in a trailblazing form of storytelling theater that established her as a force in the playwright world. She interviewed many people connected to the Crown Heights events, among them the Afro-Caribbean community, the Lubavitcher Jewish community, and civil rights activists including Rev. Al Sharpton and Angela Davis.
Smith turned her interviews into a script and performed them as a one-woman show, offering a full and complex view of the unrest.
Profile Theatre presents the play for 10 days only, from Friday, Oct. 12 through Sunday, Oct. 21 on the Morrison Stage at the Artists Repertory Theatre, downtown.
Rue, a local actor known for his role in the TV series Grimm, and in the 2016 stage production "Blue Door," also at Profile Theatre, will play 26 interviewees who were involved or impacted by the riots. Bermea, the director, also directed Rue in "Blue Door," and acted in "Water by the Spoonful" in 2017 at Profile Theatre.
When asked about the significance and relevance of the play 27 years after the events, Rue emphasized the story's importance for creating empathy and compassion for all.
"Too often, I think, we're not given the space to really listen. We're not rewarded for being silent and open and absorbent," he said.
Rue said when watching the play, the audience is given permission to listen to real people's stories, to practice taking on the responsibility of learning, and then to walk out of the theater with perhaps some new openness, eagerness to hear the voices of others and with a humble thirst to understand.
"In that way, we can really begin to care for each other in real, meaningful ways, he said.
Bermea adds that the play is "not only relevant because we find ourselves once again a divided nation. It's relevant because living side by side with people of a different race, culture, creed or religion can be a complex, exciting and even dangerous exercise. But with 7 billion people on the planet and counting, it's imperative that we figure out how to do it better. This play is about the hard work of being an American, and of being a human, period."
Tickets for "Fires in the Mirror" and more information can be found at profiletheatre.org.