Shaking Up Controversy
Earthquake retrofits seen as next wave for displacements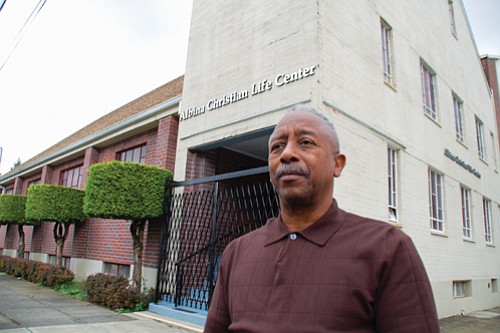 A city-led effort to post and label some buildings in Portland as potentially unsafe during a major earthquake, the first step to requiring major and costly upgrades, is shaking up controversy with many African American community church leaders, among others, who say the unintended consequences of such a measure may lead to an undesired repetition of history: homes, businesses and non-profit organizations in traditional communities of color being displaced at the hands of the city.
A proposed placarding ordinance, slated to be voted on by the City Council on Wednesday, is the first part of an over-arching effort to get certain buildings made of brick and mortar or brick and plaster, called unreinforced masonry (URM), up to current codes over the next several years. Over 1,600 such buildings exist in Portland, according to the city's website.
Though scientists consider Portland to be due or overdue for a major earthquake, the city has more URM buildings that are at risk of collapse during an earthquake than any other city on the West Coast, a city official said.

Bishop Marcus Irving of Albina Christian Life Center on N Willamette Blvd says his church is one of the properties the city has earmarked to receive a warning sign for posting, which conveys its message in 50-point bold font.
Irving was upset to learn about the requirements, just one month prior to a resolution being passed back in June setting guidance for an eventual adoption of the retrofitting mandate.
"When I started contacting churches, none of them knew anything about the [proposed] mandate to retrofit our buildings," Irving said.
Though city officials have said they sent letters to stakeholders this past spring, many apparently had not received them, according to a statement from the Portland NAACP which is working on the issue on behalf of other black churches and other community members.
Irving's church and two other black churches were on the URM list on June 16 of this year, according to an internet archive of the city's website from that time. Those churches, both in north Portland, were Celebration Tabernacle Church, led by current NAACP president Pastor E.D. Mondaine and Christ Memorial Church, led by Pastor Roy Tate. Both Mondaine and Tate told the Portland Observer they didn't receive any notification then that they were on the list, but Irving did receive written notice in May. According to the most up-to-date URM list from the city's website, all three are still listed.
New Testament Church of God , Maranatha Church, and Trinity Full Gospel Pentecostal Church are more examples of black churches in the north/northeast area of Portland on the list, among dozens of other churches all across the city.
A huge concern for Bishop Irving and others is the expense to retrofit. Irving estimates the cost to upgrade his church for better earthquake protection would be anywhere from $1 to $1.75 million.
"There's no lending institution that would lend us that kind of money," he said.
Continuing to operate without the upgrades, Irving said, could result in his church, and other establishments who can't afford the remodels, being condemned and forced closed.