Shaking Up Controversy
Earthquake retrofits seen as next wave for displacements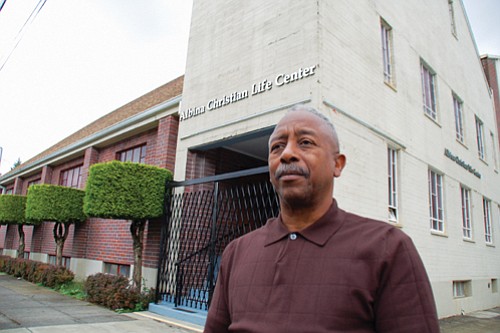 A city-led effort to post and label some buildings in Portland as potentially unsafe during a major earthquake, the first step to requiring major and costly upgrades, is shaking up controversy with many African American community church leaders, among others, who say the unintended consequences of such a measure may lead to an undesired repetition of history: homes, businesses and non-profit organizations in traditional communities of color being displaced at the hands of the city.
A proposed placarding ordinance, slated to be voted on by the City Council on Wednesday, is the first part of an over-arching effort to get certain buildings made of brick and mortar or brick and plaster, called unreinforced masonry (URM), up to current codes over the next several years. Over 1,600 such buildings exist in Portland, according to the city's website.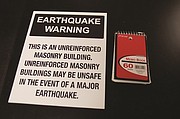 Though scientists consider Portland to be due or overdue for a major earthquake, the city has more URM buildings that are at risk of collapse during an earthquake than any other city on the West Coast, a city official said.

Bishop Marcus Irving of Albina Christian Life Center on N Willamette Blvd says his church is one of the properties the city has earmarked to receive a warning sign for posting, which conveys its message in 50-point bold font.
Irving was upset to learn about the requirements, just one month prior to a resolution being passed back in June setting guidance for an eventual adoption of the retrofitting mandate.
"When I started contacting churches, none of them knew anything about the [proposed] mandate to retrofit our buildings," Irving said.
Though city officials have said they sent letters to stakeholders this past spring, many apparently had not received them, according to a statement from the Portland NAACP which is working on the issue on behalf of other black churches and other community members.
Irving's church and two other black churches were on the URM list on June 16 of this year, according to an internet archive of the city's website from that time. Those churches, both in north Portland, were Celebration Tabernacle Church, led by current NAACP president Pastor E.D. Mondaine and Christ Memorial Church, led by Pastor Roy Tate. Both Mondaine and Tate told the Portland Observer they didn't receive any notification then that they were on the list, but Irving did receive written notice in May. According to the most up-to-date URM list from the city's website, all three are still listed.
New Testament Church of God , Maranatha Church, and Trinity Full Gospel Pentecostal Church are more examples of black churches in the north/northeast area of Portland on the list, among dozens of other churches all across the city.
A huge concern for Bishop Irving and others is the expense to retrofit. Irving estimates the cost to upgrade his church for better earthquake protection would be anywhere from $1 to $1.75 million.
"There's no lending institution that would lend us that kind of money," he said.
Continuing to operate without the upgrades, Irving said, could result in his church, and other establishments who can't afford the remodels, being condemned and forced closed.
In addition, some 7,000 residential units--1,800 of which are designated as serving low-income – are designated as non-conforming to the new standards.
Of the 1,600 non-residential URM buildings, 1,415 are commercial, including thousands of small businesses, 43 are Portland Public Schools, and 38 churches, according to a grassroots volunteer group made of individual and family community members called Save Portland Buildings.
About four years ago, the City Council directed three of its city departments—the Bureau of Emergency Management, Bureau of Development Services, and Portland Development Commission (now called Prosper Portland)—to research and create recommendations for a mandatory retrofit policy for the buildings in question, Bureau of Emergency Management Public Information Officer Dan Douthit told the Portland Observer.
The mandate to go beyond the required posting to actually retrofit the identified commercial buildings, schools and churches, is expected to come to City Hall in about a year. A committee will be formed until that time to assess the logistics of its implementation (the city is currently accepting applications to be a part of that committee)
As part of that process, city officials are working with state legislators to drum up a way of partially reimbursing owners for the cost of retrofitting, Douthit said. He added that a revolving fund specifically designated for non-profits, is one idea being looked into.
A 20-year time frame for the building upgrades to be completed for each building, with a shorter timeframe for city-owned buildings, is expected to be part of the mandate, but the yet-to-be-formed committee will ultimately decide that, Douthit said.
Irving has called for the entire process to start from scratch and Portland NAACP released a statement last month calling for the immediate halting of the any placarding initiatives "until an inclusive resolution has been drafted and approved by the community."
The civil rights group compared the practice of placarding to the historical blighting of Albina, referencing black neighborhoods that were designated as "blighted" in north and northeast Portland in the 1960s and 70s by City Council. The designation allowed the Portland Development Commission to tear down 160 houses and 28 businesses and is blamed with causing the displacement of a large number of African Americans in the area.
According to its website, the Save Portland Buildings group also calls for the halting of placarding on buildings, as well as education to the community about earthquake readiness, and a fix of the city's URM list which has inaccuracies.
A disclaimer on the city's website states its list of URM buildings apparently isn't 100 percent reliable, having been started from a list from the 1990s from a very cursory "windshield" study, Douthit said. Data points were then investigated, corrected, or added later by city staff, when the retrofit mandate recommendations were being formulated four years ago.
Douthit said the list is mostly accurate. He added that an appeals process is in place for those who are on the list that might've gotten their building upgraded in the interim, which would further improve the list's accuracy.
The accuracy of the list raised a lot of questions from community members last Wednesday when the City Council heard testimonies on the placarding proposal and received much opposition, though Commissioner Dan Saltzman defended the list.
Community members representing music venues, business owners, and others said the placards could drive away revenue. During that hearing an amendment passed unanimously, initiated by Commissioner Amanda Fritz, to make the placards more accessible—such as including the text in brail—and mandating the information be passed on to tenants of the buildings in question.
The original initiative to upgrade URM buildings was spurred by the fact that Portland is considered to be under-equipped for a major catastrophic earthquake charting 5 points or above on the Richter scale, one that scientists say may happen any day. The last catastrophic quake to hit Oregon was in 1700, 318 years ago, while the average interval between most major quakes is 243 years.
Under the city's proposed timeline, a publicly-owned building impacted would be required to post the warning placards on or before Jan. 1; privately-owned buildings would have until March 1 and non-profits would be given until Nov. 1, 2020. The new regulations would be enforced by regular inspections through Portland Fire and Rescue.