Shaking Up Controversy
Earthquake retrofits seen as next wave for displacements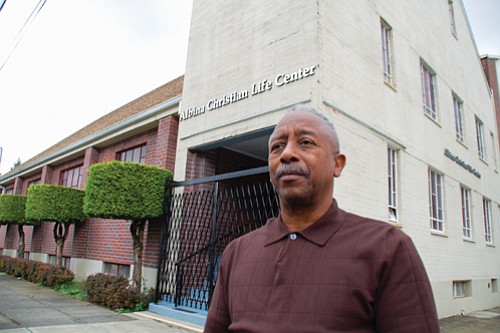 In addition, some 7,000 residential units--1,800 of which are designated as serving low-income – are designated as non-conforming to the new standards.
Of the 1,600 non-residential URM buildings, 1,415 are commercial, including thousands of small businesses, 43 are Portland Public Schools, and 38 churches, according to a grassroots volunteer group made of individual and family community members called Save Portland Buildings.
About four years ago, the City Council directed three of its city departments—the Bureau of Emergency Management, Bureau of Development Services, and Portland Development Commission (now called Prosper Portland)—to research and create recommendations for a mandatory retrofit policy for the buildings in question, Bureau of Emergency Management Public Information Officer Dan Douthit told the Portland Observer.
The mandate to go beyond the required posting to actually retrofit the identified commercial buildings, schools and churches, is expected to come to City Hall in about a year. A committee will be formed until that time to assess the logistics of its implementation (the city is currently accepting applications to be a part of that committee)
As part of that process, city officials are working with state legislators to drum up a way of partially reimbursing owners for the cost of retrofitting, Douthit said. He added that a revolving fund specifically designated for non-profits, is one idea being looked into.
A 20-year time frame for the building upgrades to be completed for each building, with a shorter timeframe for city-owned buildings, is expected to be part of the mandate, but the yet-to-be-formed committee will ultimately decide that, Douthit said.
Irving has called for the entire process to start from scratch and Portland NAACP released a statement last month calling for the immediate halting of the any placarding initiatives "until an inclusive resolution has been drafted and approved by the community."
The civil rights group compared the practice of placarding to the historical blighting of Albina, referencing black neighborhoods that were designated as "blighted" in north and northeast Portland in the 1960s and 70s by City Council. The designation allowed the Portland Development Commission to tear down 160 houses and 28 businesses and is blamed with causing the displacement of a large number of African Americans in the area.
According to its website, the Save Portland Buildings group also calls for the halting of placarding on buildings, as well as education to the community about earthquake readiness, and a fix of the city's URM list which has inaccuracies.
A disclaimer on the city's website states its list of URM buildings apparently isn't 100 percent reliable, having been started from a list from the 1990s from a very cursory "windshield" study, Douthit said. Data points were then investigated, corrected, or added later by city staff, when the retrofit mandate recommendations were being formulated four years ago.
Douthit said the list is mostly accurate. He added that an appeals process is in place for those who are on the list that might've gotten their building upgraded in the interim, which would further improve the list's accuracy.