Breast Cancer Screenings Offered
Mobile mammogram van to make stop at Vancouver Avenue First Baptist Church
10/10/2018, 10:33 a.m.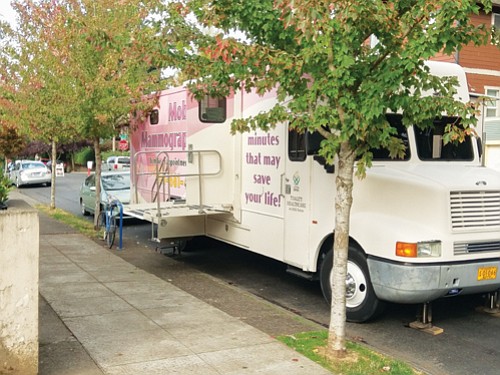 Have you had your annual mammogram, yet? Has it been a few years? The Susan G. Komen foundation of Oregon and Southwest Washington is working to prevent breast cancer in the African American community by assisting with mammogram checkups and sponsoring a stop by the Tuality Healthcare mobile mammography van at Vancouver Avenue First Baptist Church on Saturday, Oct. 20 from 9 a.m. to 3 p.m.
The exams will be available for women 40 and older, with or without insurance, who have not had one in at least one year. Pre-registration is required by Oct 14. Go to Komenoregon.org/worship-in-pink or call 503-552-9160.
If a woman does not have insurance and does not qualify for ScreenWise, Oregon's free mammogram program, then Komen has funds set aside to cover the cost of the mammogram. If someone has Kaiser insurance, they will be connected to a Kaiser Permanente representative to schedule their mammogram at a KP facility, as it is not accepted on the van. If you think you have a symptom of breast cancer, contact your healthcare provider as soon as possible to have it checked out.