Vote and Dream
Museum shares message for civic engagement
10/10/2018, 10:25 a.m.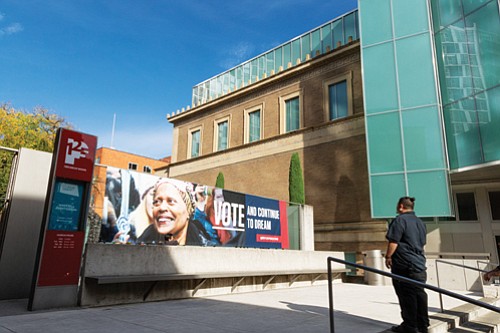 This fall, the Portland Art Museum is making a statement about the importance of participating in the democratic process and midterm election by raising a banner by Carrie Mae Weems, an acclaimed African American artist and Portland native.
Weems created the billboard "Vote and Continue to Dream" using a photograph she took at the January 2017 Women's March in Washington, D.C. The smiling face on the banner belongs to the writer and performance poet Sapphire. Weems said her work was inspired by the great feeling of hope and empowerment that the nationwide women's marches instilled in her and so many others.
The Portland Art Museum is a partner in "For Freedoms" a 50 state, artist-led platform for civic engagement, discourse, and direct action, by installing public art installations and exhibitions in order to inject nuanced, artistic thinking into public discourse.
The works of Freedoms' co-founder Hank Willis Thomas, whose art takes on issues of race and politics, will be part of an exhibit "Hank Willis Thomas: All Things Being Equal," coming to the museum in the fall of 2019.