Protest Turns to Brawl
Repeated clashes has mayor calling for new rules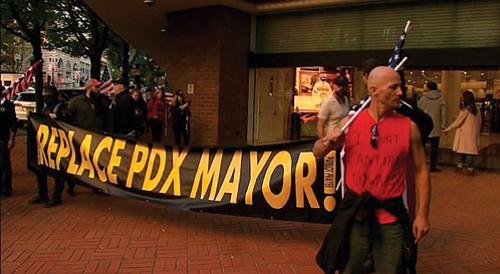 After rival political factions broke into a bloody street brawl in downtown Portland again Saturday night, Mayor Ted Wheeler called on imposing new regulations to crack down on such occurrences in the future.
Multiple street fights broke out in a wild scene with left and right wing citizen protesters using pepper spray, bare fists and batons in front of Kelly's Olympian, a popular bar on Southwest Washington Street. The melee, which was partially captured by cell phone video, culminated in riot cops rushing in to break up the activity, in part with the use of non-lethal ammunition.
Police noted that protestors and counter-protestors were possessing hard-knuckled gloves, firearms, and knives, though no weapons were seized.
The incident started with a protest for law and order that was organized by Joey Gibson of Vancouver and a leader for Patriot Prayer. The Proud Boys, another right-wing group known for members who espouse white nationalist rhetoric, also attended.
The group raised a banner in criticism of Mayor Ted Wheeler for his response to police using a hands-off approach during a protest one week earlier of the Sept. 30 officer-involved shooting death of Patrick Kimmons, a 27-year-old black man.
In that incident, police protesters blocked a street and a violent confrontation erupted between a motorist and the crowd.
On Saturday, as the right-wing group approached a makeshift street memorial near where Kimmons was killed, they were met by a large group of counter-demonstrators that included people identifying with the left-wing group Antifa. Taunts and chants were exchanged as police looked on. Though no fists were exchanged there, other skirmishes among smaller groups flared up blocks away, including the large one outside Kelly's Olympian.
The incident was just the latest in a series of violent clashes between protesters over the past two years.
Mayor Ted Wheeler released a statement on Monday vowing to swiftly introduce an ordinance to crack down with new regulations giving police more power to break up and prevent violence from protest camps that are geared for a fight.
"This is not a partisan issue. This is not about ideology. This goes beyond Democrat or Republican. This is about delivering a strong and principled message that we will not tolerate violence in our community," Wheeler said.