Writings to Humanize Education
'Teaching for Black Lives' a handbook for caring
10/19/2018, 6 a.m.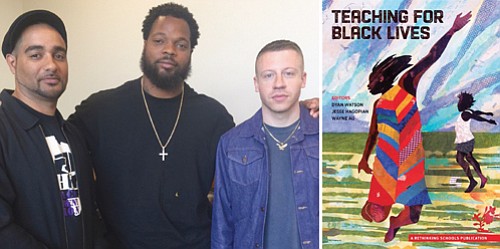 Three-time NFL Pro Bowler Michael Bennett and Grammy award-winning artist Macklemore have teamed up to purchase and distribute copies of a new, widely-acclaimed book, "Teaching for Black Lives" to middle and high school social studies and language arts teachers in the Pacific Northwest.
The book is a collection of writings meant to aid educators and humanize blacks in curriculum, teaching, and policy, while also connecting lessons to young people's lives.
Professor Dyan Watson, a teacher in education at Lewis & Clark's Graduate School of Education and Counseling, is one of the book's three editors.
"I have two black sons. For me, this collection is about their survival, and the survival of children like them throughout the United States," said Watson. "Teaching for Black Lives is a handbook for all educators, students, and families who truly care about blackness and the intersections of learning, teaching, and race."
Watson began her professional career as a GED instructor for young mothers in Portland and then taught social studies at Sunset High School in Beaverton. There she developed and taught the first African American history course, and helped create and implement a school-within-a-school program for freshmen and sophomores.
"This is the book I wish I had coming up in school, but it never existed," said NFL'er Bennett. "Now we have the opportunity to educate thousands of youth about the black history that was too often missing from my schooling—from the building of the White House, to the role of black youth in social movements, to organizing for restorative justice today."
"Teaching for Black Lives" arose from a Black Lives Matter at School movement in which thousands of teachers have focused lessons on conversations surrounding black history and identity, restorative justice, and institutional racism.
"With everything from history, to poetry, to visual art, these lessons will help educators affirm the lives of their Black students and create deeper dialogue in our schools about the struggles and contributions of Black people that all students need to learn," said Macklemore.
The book demonstrates how teachers can connect curriculum to young people's lives and explore how classrooms and schools can be set up either to reproduce racism or challenge it. It has received critical acclaim from educators, activists, and publications around the country.