Community Driven
A new mission and a good fit for local leader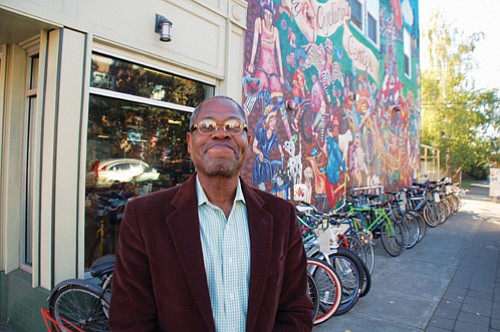 A community member with deep roots in northeast Portland and a track record of commitment to housing and urban development has been named the new Community Programs Manager at the Community Cycling Center a nonprofit organization located on Northeast Alberta Street whose mission is to broaden access to bicycling for all Portlanders.

"They wanted to expand their programming. It works for me. They work with the same populations that I love to work with. They're now branching out to the East County, which is great for me, I also like that," Fondren said.
Fondren previously worked at the Sabin Community Development Corp., which is the neighborhood organization working to keep inner northeast neighborhoods affordable for the historically African American community. He served as the organization's program director from 1999 to 2010 and then as executive director until 2013. He also had an earlier career in the food service business, including operating a downtown Portland cafe that focused on providing job training for youth.
Fondren will take over a role recently vacated by Ira Dixon, who served as the Cycling Center's Programs Manager for two years before moving to Iowa with his family.
Initially, Fondren's primary work will be leading the Cycling Center's programs in the New Columbia/Portsmouth neighborhood of north Portland.
Since 2008, the organization has had a "pop-up shop," known as a hub in the neighborhood, working with other partners to improve access to bicycling and providing things like free bike repairs and offering courses to learn bike mechanic skills. The hub is located next to the Boys and Girls Club on North Trenton Avenue and a "bicycle pump track" around the hub, gives youth (and sometimes adults) a fun riding adventures on site.
Having recently wrapped up its summer session, Fondren said he's already looking forward to making improvements on it for next year, such as getting volunteers to help them paint the Hub and updating a nearby bicycle skills park.
Fondren will also be working with the parents, staff, and community at nearby Cesar Chavez and Rosa Parks schools through the Cycling Center's "Community Based Safe Routes to School" initiative. In this program, the Cycling Center is asking neighbors how they can support kids and families in walking and bicycling to school and in the neighborhood. If you live in the neighborhood, expect to see him around and to hear him asking for your input.

Fondren has been working in Portsmouth with a team of two mechanics and two "safe routes coordinators." During the summer he worked with several interns through SummerWorks program. In the longer term, he will work with the team at the Cycling Center to identify other needs and opportunities for community programs.