Election Countdown
Issues weigh heavy as ballots go out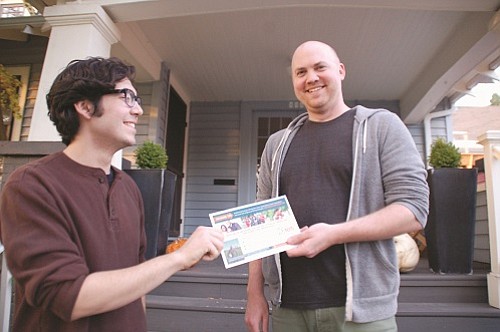 As the Nov. 6 General Election draws close with vote-by-mail ballots already in the mail and being cast up until Election Day, the issues at stake are weighing heavy on the minds of voters, especially for working families, women, immigrants, and those seeking affordable housing.
Five statewide ballot measures, and three local ballot measures, could greatly impact the future for communities of color for years to come, even as races for Oregon governor and a coveted Portland City Council seat heat up and make history. Here's a break-down of the ballot measures, as well as the governor's race and city council race that will seat the first African-American female in Portland history.
Measure 105 – Sanctuary State Repeal
Voting yes on this statewide measure would undo a 1987 law that prohibits the use of state and local law enforcement resources to enforce federal immigration standards (colloquially known as "Sanctuary State" law). The measure is backed by an organization that is funded by two hate groups, Oregonians for Immigration Reform and Federation for American Reform, according to the Southern Poverty Law Center. Those opposed to it include more than 40 racial justice organizations, such as American Civil Liberties Union of Oregon and multiple local branches of the NAACP. The sanctuary state law that the measure would repeal was originally put in place with bi-partisan support to prevent racial profiling, advocates against the measure say.
Measure 106 – Restricts Abortion Funding and Accessibility
A yes vote to this statewide initiative would create an amendment to the Oregon Constitution to prohibit spending any public monies for abortion, including the Oregon Health Plan covering low-income residents, and reduce abortion services. Some exceptions would occur when federal law requires states to provide funding for abortions, as in the cases of rape or incest. An ectopic pregnancy, which occurs on the outside of the uterus and can threaten the mother's life, is also an exception.

Measure 26-201 - Clean Energy Initiative
A majority yes vote for this Portland-specific measure would create a one percent surcharge on revenues for large retailers within the city to fund clean renewable energy projects and job training to marginalized groups like communities of color, women, persons with disabilities, and the chronically underemployed. Only businesses that make at least $1 billion in revenue annually, and at least $500,000 of that revenue within the city limits, are eligible to be surcharged. Most groceries and medicine would be exempt.
Measure 26-199 - Metro Housing Bond
This Metro regional government measure proposes leveraging $652.8 million of new tax revenues from Multnomah, Clackamas and Washington counties to create affordable housing in those counties. Housing specifically for low income people, the purchasing and rehabilitation of some houses, and other anti-displacement measure are part of the proposal. The cost per property owner would be 24 cents per $1,000 dollars in assessed value of property, or about $60 per year on average.
Measure 102 - Affordable Housing Spending
In this statewide affordable housing measure, a constitutional amendment would allow Oregon governments to contract with private and non-profit developers to create more affordable housing. Currently Oregon's constitution prohibits nongovernmental entities to receive financing from local bonds to build things, but this amendment could allow an exception specifically for affordable housing.