6,000 Sign Up for Low Income Fares
10/24/2018, 10:06 a.m.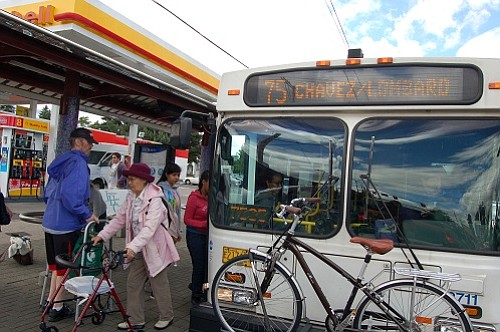 For those experiencing poverty in Portland, a simple expense like transportation can mean having to make the choice between getting a bus pass and buying groceries. Now with successful enrollment in TriMet's new reduced fares for low income riders, savings of more than $860 per year can be made on day and monthly passes, an amount that can be life-changing for some.
People earning up to double the federal poverty level became eligible for enrollment in TriMet's Honored Citizen fare program in July, which discounts 50 percent off the cost of an adult fare for a single ride or day pass and 72 percent off the cost of a month pass.
The $864 of savings per year is equivalent to about two week's pay of a full-time minimum wage worker.

For one college a student, a reduced fair could mean freeing up resources for things like food, clothing or paying bills. But she didn't know such a program existed until recently.
"I think it's a wonderful opportunity, especially due to the amount of low income people that use public transportation and can't afford it. It's a nice savings," Jalena, a Portland Community College student who qualified through the Oregon Health Plan, said.
So far, more than 6,000 Oregonians aged 18-64 who live on a low income have signed up, according to TriMet which can be done by presenting proof of low income through pay stubs or enrollment in programs such as Oregon Health Plan, the Supplemental Nutrition Assistance Program (SNAP) and several others.
The income documents, along with valid ID, can be brought to TriMet's partnering organizations in person, such as Centro Cultural, IRCO, and WorkSource Oregon to be screened for eligibility. Approved riders can bring their application receipt to the Trimet Ticket Office at Pioneer Courthouse Square downtown to obtain a personalized Hop FastPass Honored Citizen ID card.
Funding for the program was made possible through a $12 million investment by the Oregon Legislature.
For more information about how to apply for reduced fare, visit trimet.org/lowincome.