E-Scooters Popular Survey Says
10/24/2018, 9:55 a.m.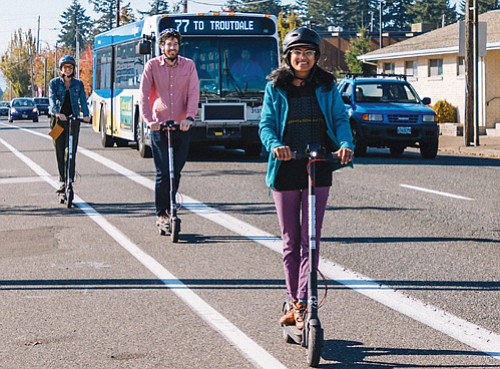 The results of a survey conducted to evaluate the riding habits, perceptions and safety of Portland's e-scooters pilot program show that they're a popular new transit option for residents and visitors alike and may be helping to reduce the number of cars on the road.
Portland Bureau of Transportation got over 4,500 respondents to a survey of 75,000 customers of Bird, Lime, and Skip, the three companies granted permission to operate e-scooters in the city. The motorized electronic scooters are reserved for rental use via smart phones.
The key survey findings were that the e-scooters are being used for both needed transportation and recreation, are popular among locals, and have replaced car trips, especially for visitors.
In addition, more residents and visitors preferred using e-scooters in the bike lane where they are allowed rather than on the side walk where they are prohibited. Many of them recorded their e-scooter experience as their first use of the city's bike lanes.
The majority of users said they were familiar with most of the e-scooter regulations, including the requirement to wear a helmet. The e-scooter pilot is still ongoing and will conclude on Nov. 20. E-scooters won't be available after that until the city evaluates whether or not to adopt them long-term, officials said.