Flicker Flame Safety for Holidays
By The Light Lady at Sunlan | 10/31/2018, 1:49 p.m.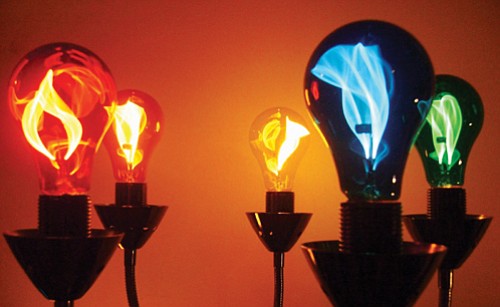 Flicker Flame lights are often seen as Halloween bulbs but are great for many occasions. Inside the pumpkin, they look like real candles. The light flickers and bounces inside the plastic jack-o-lantern. The same bulb placed in a fixture and set in your window is a fun decorator touch to say welcome or just to greet you when you return home.
December is full of holidays that use candles to honor the beliefs of many religions. Using ficker flame bulbs is an easy way to have the look of a candle and be safe. One way to use them is with a timer to turn the light off and on at a given time each day.
I use flicker flame lights in my home in many ways. In my kitchen windows I have them in several pretty candle stick holders that we made from our wide selection of fixture parts. I also use flicker flame bulbs in the bathroom. Two of them create enough light to see at night and are fun to enjoy when bathing. In the dark, the light reflects off of the chrome and glass in the room, creating many points of light. In my living room I created an art display with salt rocks, flicker flame bulbs and a dragon lady my son gave me.
We now have flicker flame bulbs in LED. Both types come in standard -e26 and candelabra-e12 light bulb bases. We have an LED bulb that has the G4 bi-pin base to replace JC20 watt 12volt halogen bulb.
Come visit us at Sunlan Lighting, 3901 N. Mississippi Ave.