Pleas for Peace
Portland vigil follows attack on Jews
10/31/2018, 10:51 a.m.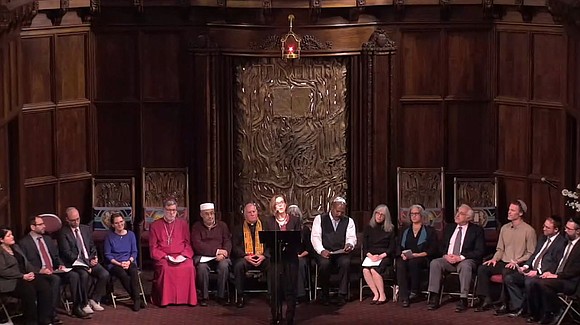 Several interfaith leaders, elected officials and people of all backgrounds gathered in Portland Sunday to support the victims of a mass shooting and call for peace, one day after a white gunman apparently bent on racist and extremist postings against immigrants walked into a Jewish synagogue in Pittsburgh, Penn. and killed 11 people.
Congregation Beth Israel, at 1972 N.W. Flanders St., hosted the afternoon ceremony. Speeches, quotes from the Hebrew Bible, and singing, including a rendition of the civil rights anthem "We Shall Overcome," filled the Portland temple as dozens locked hands in solidarity.
Gov. Kate Brown, Sen. Ron Wyden, and Portland Mayor Ted Wheeler were also in attendance. Thousands flooded Pittsburgh streets for memorials that same evening.
Authorities said the man charged in the shooting, identified as Robert Bowers, 46, regularly posted memes and conspiracy theories attacking immigrants and their supporters on a social network called Gab which is often associated with conspiracy theorists and extremists — including an ominous warning posted just hours before the attack.
Bowers was arraigned Monday on 29 federal counts, including hate crimes and weapons offensives.
The synagogue attack is considered the deadliest attack on the Jewish community in U.S. history, and a massacre that highlights the rise of hate crimes across the country.