Young Scientist Takes First
10/31/2018, 11:09 a.m.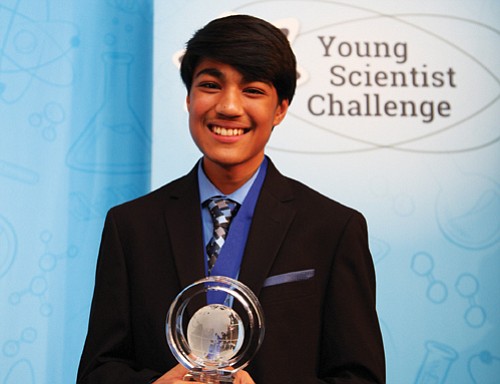 Rishab Jain of Stoller Middle School has been named America's Top Young Scientist by winning the 2018 Discovery Education 3M Young Scientist Challenge.
Rishab, 13, created an algorithm to make pancreatic cancer treatment more effective by using artificial intelligence to accurately locate and track the pancreas in real-time during MRI radiotherapy.
An inherent challenge of radiation treatment for pancreatic cancer resides in targeting the pancreas itself, which is often obscured by the stomach or other nearby organs, making it difficult to locate, and may move due to breathing other anatomical changes in the abdominal area.
Rishab developed and tested his algorithm using images of the human digestive system, and found it could correctly detect the pancreas with a 98.9 percent success rate. The innovation aims to improve accuracy, reduce invasiveness and increase efficiency during treatment, resulting in better quality of life and chance for survival among patients.
Jain competed against nine other finalists
and received a $25,000 prize.