Arrested for a Cause
'Reluctant Radial' screens with director
9/5/2018, 10:29 a.m.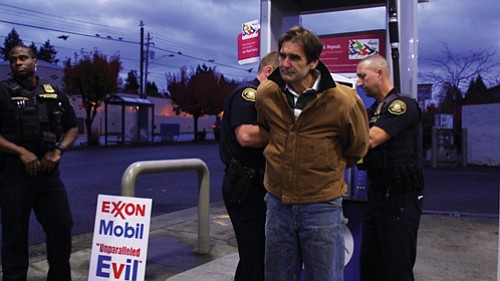 On Oct. 11, 2016, a small group of activists successfully shut down all U.S. tar sands oil pipelines. They were immediately arrested, including documentary film director Lindsey Grayzel, producer Deia Schlosberg, and cinematographer Carl Davis.
'The Reluctant Radical' follows activist Ken Ward over the course of a year and a half of civil disobedience, culminating in the coordinated direct action. While charges against the filmmakers have been dropped, the other activists, including Ward, still await trial with no regrets.
A review by the Willamette Week calls the film both a vivid portrait of an activist and an addictive suspense thriller.
The Northwest Film Center invites the public to see the award-winning film and meet both Graysel and Ward, his documentary subject, who will be in attendance when it screens on Wednesday, Sept. 12 at 7 p.m. at Whitsell Auditorium in the Portland Art Museum, downtown. A pre-film reception will begin at 6 p.m.
Admission is $10 general and $8 for students and seniors.