Black is Beautiful
Public art project draws on positive messages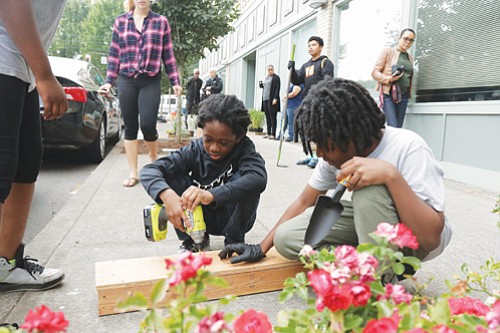 The historic heart of Portland's black community is receiving the finishing touches of a new urban beautification project that celebrates the contributions of African Americas to the city.
Black kids from the community, graduate art students and local seniors worked to create artful benches, decorative tiles and planters for flowers and vegetation as part of a project spearheaded by the Urban League of Portland and aimed in part to combat the displacement of public art by African Americans in the wake of gentrification. A grant from Portland's Bureau of Transportation (PBOT) helped fund the effort.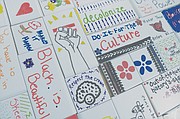 Many community partnerships coalesced to make the project a success, including the black-led nonprofit housing provider Portland Community Reinvestment Initiatives (PCRI) and two Portland art schools, the Pacific Northwest College of Art and the Oregon College of Arts and Crafts.
Graduate art students held workshops to determine the designs. The youth proposed benches that can rock back and forth, which the graduate students used their schools' equipment and resources to create. In addition, decorative tiles were hand-painted to reflect positive messages of the black community.
"Black is Beautiful," "Do it for the Culture," "Black Power," "Support One Another," and "Honor Those Before Us" were some of the positive themes created for the tiles, which were donated by the nearby nonprofit ReBuilding Center on North Mississippi Avenue.
A local African American husband-and-wife artist duo, Cleo Davis and Kayin Talton Davis, created a similarly community driven public art project back in 2012, called the Historic Black Williams Project.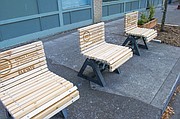 The couple installed a visual archive of stories, memories and history from black community members with informational signs posted all along Williams Avenue, a once thriving corridor of the black community that included a high concentration of black churches, businesses, social services, organizations and nightclubs. That project was also supported by PBOT and the Regional Arts and Culture Center.
After hearing about the latest beautification project, the Davis' and Portland architect Matthew Miller, aligned their design program with the Urban League's project.