Deliciousness in all its diversity
Rockwood cookbook celebrates foods and traditions
9/5/2018, 10:23 a.m.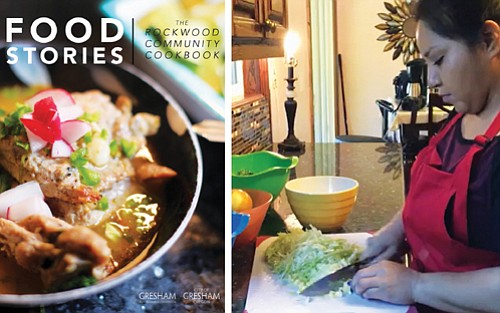 From home cooks to cafes, time-tested restaurants and upstart kitchens, there is a diverse array of food and tradition found in Gresham's Rockwood neighborhood.
Now, some of the best recipes and stories the neighborhood has to offer are available in "Food Stories: The Rockwood Community Cookbook," a celebration of food, community, and new food shopping and food-related business opportunities being created by the city's Rockwood Rising Redevelopment Project.
"Food is such a great way to bring people together," said Emily Bower, senior urban renewal project coordinator for the City.
The cookbook seeks to promote the wide array of culinary talent that exists in Rockwood, and its burgeoning food scene, as well as the people and diverse cultures that call this neighborhood home.
Recipes draw from food traditions across the globe and right here at home. One of the recipes, Satellite Restaurant Meatloaf, is the original from the iconic 1950s-era neighborhood diner that once operated on the redevelopment site.
Many of the more than 20 recipes gathered in this book were passed down from generation to generation but had never been written down before. The cookbook is available at Gresham City Hall for a suggested donation of $5.
All cookbook proceeds will benefit Birch Community Services, a Rockwood-based financial literacy nonprofit that provides access to donated food, clothing and household items to ease hunger and poverty.
The release of the Food Stories cookbook also supports the Gresham Redevelopment Commission's work to develop a Market Hall for the Rockwood Rising site at 18535 S.E. Stark St., the former Fred Meyer property.
Plans for the Market Hall call for a range of fresh produce and prepared foods to help meet a longstanding need for more healthy food options in the neighborhood and will provide entrepreneurship and job training opportunities.